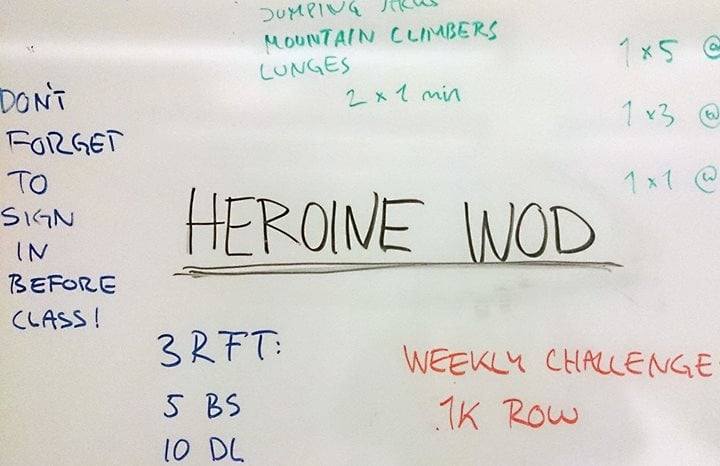 Heroine Wod- Exhibition
Norræna húsið
Sat Feb 11th 2017 at 08:00
---
Reykjavik
,

Sturlugata 5

,

Reykjavík

,

Reykjavík
https://www.myguidereykjavik.com/events/heroine-wod-exhibition
BOOK NOW
Event Details
Skandinavisk/English below

Vertu velkomin á opnun sýningarinnar HEROINE WOD 11. febrúar kl. 11:00. Norræna húsið býður upp á léttar veitingar.

Sýningin verður opin 11.02 -27.02 alla virka daga frá 9-17 og helgar 11-17. Aðgangur er ókeypis.

Sænska listakonan Victoria Cleverby notar CrossFit
til að minnast kvenhermanna og gera áhorfandann meðvitaðan um karllægni samfélagsins. Heroine WOD, sem er tilbúningur listakonunnar Victoriu Cleverby, er kvenkyns útgáfa af CrossFit æfingum sem kallast Hero WOD. Æfingarnar, sem eru undirstaða í CrossFit, eru nefndar eftir körlum sem falla í stríði. Engar æfingar eru gerðar til að minnast þeirra kvenna sem misst hafa lífið í stríði.

______

Velkommen til åbningen af udstillingen Heroine Wod i Nordens Hus foyer den 11.2. 2017, kl 11:00. Nordens Hus byder på kaffe og frugt.

Heroine WOD – Kunstudstilling i Nordens Hus foyer af Victoria Cleverby. 11.02.2017-27.02.2017.

Hur pratar vi om kvinnor som är soldater, och hur blir de ihågkomna?

Heroine WOD lånar sitt namn från träningspass som inom sporten CrossFit kallas Hero WOD's, träningspass tillägnade soldater som dött i strid. I det här projektet har fem stycken kvinnliga soldater förärats med varsin WOD, träningspass som ska utföras i deras äras, för att försäkra oss om att de blir ihågkomna.
________

Welcome to the opening of HEROINE WOD in the Nordic House's foyer 11.2. 2017 at 11 am.
The Nordic house welcomes you with light refreshments.


Heroine WOD- at the Nordic House foyer by Victoria Cleverby.
How do we talk about women that are soldiers, and how are they remembered?

Heroine WOD borrows its name from the workouts that within the sport of CrossFit is known as Hero WOD's, workouts dedicated to soldiers that has passed in battle. In this project five female soldiers have been honoured with WOD's, workouts to be carried out in their honour, to secure that they are remembered.