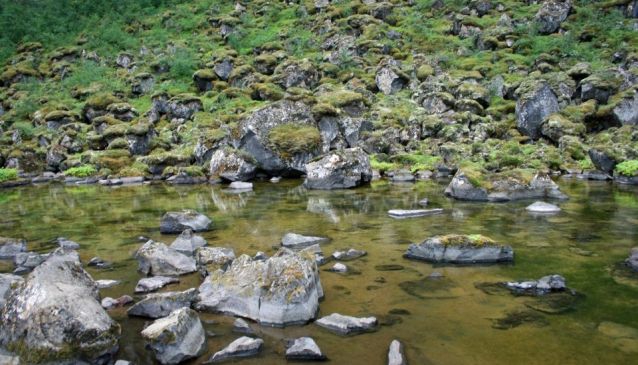 24 Hours in the North of Iceland
Reykjavik
I thought to myself: This is the most beautiful place in all of Iceland.
In August of summer 2012 I travelled to the North of Iceland with my mother and grandmother. The last time the three of us travelled to that region together I was about six years old. This time around I'm 23 and a lot easier to deal with (or so they say). Instead of staying in Akureyri for the whole trip we decided to explore some of the other areas the North has to offer, most of which I had never been to before.
Kjarnaskógur
For the first three days we rented a summer cottage in Kjarnaskógur woods in the southern part of Akureyri. It was a pleasant place to stay at for many reasons. Kjarnaskógur is one of Iceland's most visited forests, where you can find a 2km long athletic course, walking tracks, picnic tables, a campsite nearby and a children's playground, which I actually found out is just as much fun for adults. The cottage was like a dream - a big porch, a hot tub, barbeque, soft beds, ice cold pure tap water, fresh highland air and a spectacular view.
Húsavík
When we woke up from our beauty sleep we had breakfast and then headed straight to the car. We had a day trip planned. Our first stop was Húsavík, a town of 2,237 inhabitants on the north coast of Iceland. The town's income is derived from tourism and fishing, as well as retail and small industries. Húsavík is a true paradise for nature lovers. We heard about a company called
North Sailing
that was the first company in Iceland to organise whale watching tours and offers a wide selection of trips, tours and cruises.
Unfortunately our time was very limited so we couldn't go on any tours. Instead we had lunch at Cafe Skuld, a lovely timber-framed restaurant bar where we were told we'd get the best fish soup in town. I ordered the fish soup but my mother and grandmother decided to just have coffee and muffins. I was definitely not disappointed with; it was every bit as tasty as I had been told. The rest of the trio enjoyed their flavourful coffee and baked goods, and then we got back in the car and headed to Ásbyrgi.
Ásbyrgi
Next we headed to Ásbyrgi canyon, a horseshoe shaped depression part of Jökulsárgljúfur National Park. It measures approximately 3.5 km in length and 1.1 km across. The canyon's steep sides are formed by cliffs up to 100 metres in height. When I first stepped on to the area I was immediately stunned by it's breathtaking beauty. As I walked with my mother down the canyon through a woodland of birch and willow I could hardly believe my eyes. I thought to myself, this is the most beautiful place in all of Iceland. At the end of our walk we got to the small lake Botnstjorn where ducks were swimming. Everything was so quiet. I had never been in such a tranquil environment before.
Dettifoss
Our last stop on that day's journey was Dettifoss, a waterfall in Vatnajökull National Park in Northeast Iceland, which is reputed to be the most powerful waterfall in Europe. Dettifoss was featured in the 2012 science-fiction film Prometheus, standing in as the landscape on a primordial Earth-like planet. I was a little disappointed at first when we arrived at the area and realised that it was way too foggy for us to actually get to see the waterfall in all its glory. There is a five minute walk up to the waterfall, and the rocky area surrounding it looked magical in the fog. I felt like I was on another planet while jumping from one wet rock to another, listening to the sound of water dropping 45 metres down to the Jökulsárgljúfur canyon. Standing next to the largest waterfall in Europe in terms of volume discharge was a very powerful feeling, even though I could hardly see it.
When we got back to the cottage in the evening after a wonderful day I started thinking, and I could not understand why I had never been to any of those places before in all my 23 years living in Iceland. I vowed to travel more around Iceland every summer from that day on instead of going abroad every year. When you live in a country as magically beautiful as Iceland, the grass is definitely not greener on the other side.
Written by:
Sigurthor Marteinn
PUBLISHED: Sep 26th 2017