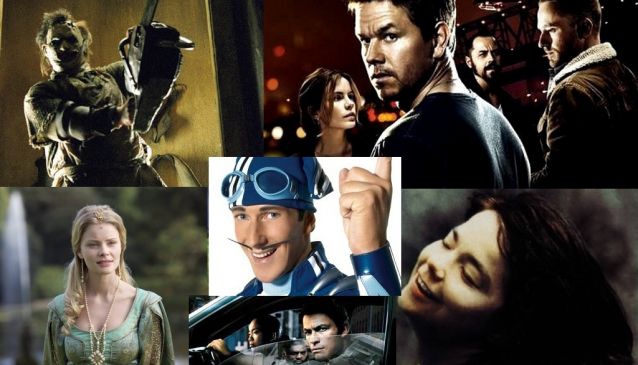 Icelanders in Famous Movies and Shows
Reykjavik
Every year, a tidal wave of Icelanders set out to conquer the world. Some do.
Iceland has an interesting culture where almost everyone has an artistic hobby, the guy who sells you fish paints pictures in the store room, your electrician writes poetry and absolutely everyone plays guitar. The other thing is the immutable Icelandic ego: Every Icelander has from birth, this belief, no, this knowledge, that they are the best in the world, and that they just need to show themselves and then the whole world will just lay itself down at their feet.
The two things together mean that every year there is a literal tidal wave of young, enthusiastic, optimistic Icelanders that set out to conquer the world, in every kind of art, business, sport and anything else you can think of. The funny thing about trying though, is that sometimes you succeed. We've had two separate three-time-winning Strongest Man of the World, three seperate "Miss Universe" winning ladies, and for a short time between 2006 and 2008 we had some super successful bankers... okay maybe that's not such a great example.
Anyway, here are some great examples of Icelanders who have accomplished something in the world of cinema and TV.
Note: This article was updated on 22 September 2015 to reflect developments since it was originally written.
Björk, Actress/Composer - Dancer in the Dark (2000)
It clearly states in the Icelandic constitution that any list of famous Icelanders has to start with Reykjavik local, Björk. Therefore, fittingly, she is at the top of our list as the lead role and composer for the critically acclaimed musical Dancer in the Dark from 2000, which won the Palme d'Or and best actress at Cannes, and was nominated for an Oscar for best original song. Interestingly, Björk never intended to act in anything, but only to write the sound track, then made an exception for Lars von Trier, and afterwards swore she would never act again.
In the movie, she plays a girl from Eastern Europe who moves to America expecting it to be like the Hollywood movies and finds out it's anything but... say, do you think there might be just a hint of autobiography there?
... Okay maybe not.
Dancer in the Dark is Björk's most notable cinematic accomplishment because she wrote more or less the entire sound track, but she has also had her pop songs featured in movies and shows as diverse as Leon (1994), Tank Girl (1995), Beavis and Butthead (1993-1995), Being John Malchovich (1999), Gilmore Girls (2001) and Sucker Punch (2011), to name just a few.
Baltasar Kormákur, Director - Contraband (2012), Everest (2015)
Baltasar Kormákur has accomplished the feat of having the most manly, awe-inspiring name in the universe. I mean just look at it. Baltasar Kormákur. It looks like the name of the Viking who killed all the other Vikings because he needed to pass the time on a Tuesday night.
He is also an internationally renowned director and actor.
Though he's been active locally and internationally for 20 years, the movies of his you're most likely to recognise include Contraband (2012), Two Guns (2013) and Everest (2015).
Contraband stars Mark Wahlberg, Kate Beckingsale and Giovanni Ribisi. In it, Marky Mark, retired smuggler, has to save his brother-in-law from gangsters by doing "one last job", which of course involves looking extremely cool in a leather jacket, breaking windows with his fists, shooting guns, blowing stuff up and generally being a tough guy.
The movie was actually co-written by two more Icelanders, Arnaldur Indriðason (internationally successful crime novelist), and Óskar Jónasson. But we won't get into that.
In Two Guns, Mark Wahlberg (again) has to outsmart some cops and criminals in a gun-and-explosion-filled double-cross plot (again), this time aided by Denzel Washington, so that's good.
In his most recent blockbuster, Everest, Jason Clarke, Jake Gyllenhaal and Keira Knightley portray the true story of an expedition which was devestated by a snow storm while scaling the eponimous mountain.
Anita Briem, Actress - The Tudors (2008), Journey to the Center of the Earth (2008)
Anita Briem rose to prominence in the popular raunchy Showtime docu-drama The Tudors, which starred Jonathan Rhys-Meyers as Henry VIII. More recently she starred alongside Brendan Fraser in the action/fantasy movie Journey to the Center of the Earth, which was actually partly filmed in Snæfellsnes, Iceland.
(okay: parts of it may be CGI)
Atli Örvarsson, Film Score Composer – Man of Steel, Hansel & Gretel: Witch Hunters, Pirates of the Caribbean, The Simpsons Movie, The Eagle, Angels & Demons, Babylon A.D., Law & Order, Chicago Fire, Season of the Witch.
What seriously? How is his by far the longest and most impressive resumé on the list and we've never even heard of him? I guess movie score composers don't get quite the same publicity as the actors and directors but still. The guy's got such a winning list of work that even the minor looking things have huge Hollywood names in them: the Fourth Kind has Milla Jovovich in it and Thick as Thieves stars Morgan Freeman and Antonio Banderas(!) He's composed for movies starring Johnny Depp, Channing Tatum, Nicolas freaking Cage, Tom Hanks, Vin Diesel, Jeremy Renner... the list just goes on and on!
Atli was born in Akureyri in the North of Iceland and he became successful as a member of Platinum-winning band Sálin Hans Jóns Míns. He eventually got to work with Mike Post on Law & Order and NYPD Blue. This brought him to the attention of Hans Zimmer who asked him to join his team at Remote Control Productions.
Now Atli only contributed "additional music" to this movie, and there's not even any music in this scene, but we're gonna show you this interaction from The Holiday, where Jack Black talks about movie scores, because we like to imagine this is what Atli is like in real life.
Eagle Egilsson, Producer/Director/Cinematographer – The Wire, Arrow, CSI: Miami, Fringe
Ok first of all, no that's not his real name. His real name is Egill, but because all you foreignese people can't say that, he adjusted it. Interestingly, it's actually quite normal to be named Eagle in Icelandic, but that name is Örn. Egill means something else.
Egill Egilsson was born in Reykjavík, the capital of Iceland, and he studied filmmaking at Columbia College, Hollywood. He was the first Icelandic member of the American Society of Cinematographers(ASC), and has been nominated for their Outstanding Achievement award four times over.
For an example of his work, here is the final scene from the final episode of the third season of The Wire, for which he was the cinematographer.
Gunnar Hansen, Actor – The Texas Chainsaw Massacre (1974)
In the epic 1974 slasher film, the iconic character named Leatherface for the human-skin-mask he wears, massacres a group of attractive youths with a chainsaw in Texas (hence the title).
Leatherface is so intimidating and the whole movie so disturbing that even just the trailer might put you off your lunch:
What you don't know, however, is that the Texan Leatherface is pretty far from home: under the mask he is actually a mild mannered Icelandic actor/writer named Gunnar Hansen. Well to be fair, he moved to the US at age 5, but we still claim him for our own. After the movie he became somewhat of a slasher icon, appearing in 29 films since then, notably the Icelandic Reykjavik Whale Watching Massacre (2009), a deliberate reference to the Chainsaw Massacre.
Incidentally, whale watching is totally a thing you can do here, and reliable sources inform us that you're very unlikely to be brutally murdered while doing so.
Magnús Scheving, Creator, Producer, Writer, Actor - LazyTown
If you're a mother of young children and have access to cable, you're probably familiar with LazyTown's Sportacus. We say "mother", of course, because aside from being popular with the kids, he is apparently VERY popular with the kids' mothers.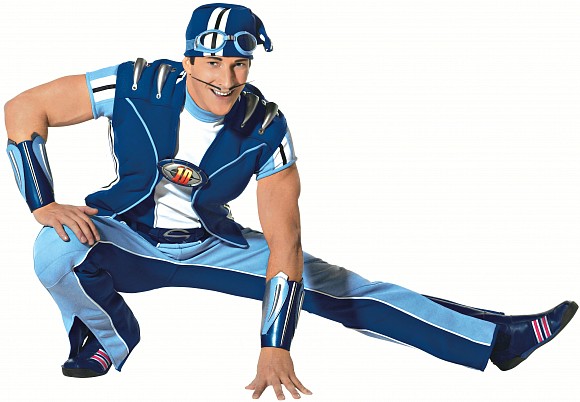 (And of course: who could resist those... moustaces?)
The character, Sportacus, is a slightly-above-average hero who lives in a blimp and protects Lazytown. He encourages kids to live healthily while jumping around so much you'll think he's popping something more than just vitamins.
His energy was put to a very different kind of use, however, when he portrayed the villain Anton Poldark in Jackie Chan's The Spy Next Door (2010), managing to be only a little bit less terrifying than the bratty kids Jackie has to take care of.
(Magnus Scheving doing some very acrobatic fighting for which he is very inappropriately dressed.)
Of course, since you're reading this article, you'll have guessed by now that Sportacus is actually fitness star Magnus Scheving, born in Borgarnes, in the west of Iceland. Well, yeah, he is, wise guy. Way to ruin the surprise, funkiller.
But not only that, the whole show is his idea, rooted in a children's book he wrote to encourage kids to live healthily in the 1990's, the show is filmed in Iceland and the villain, and most of the actors on the show are Icelandic too. Heck, even the puppets are made by Icelander Guðmundur Kárason, seen here with one of his creations, Ziggy.
(You can really see the family resemblance.)
Written by:
Sigurthor Marteinn
PUBLISHED: Sep 26th 2017