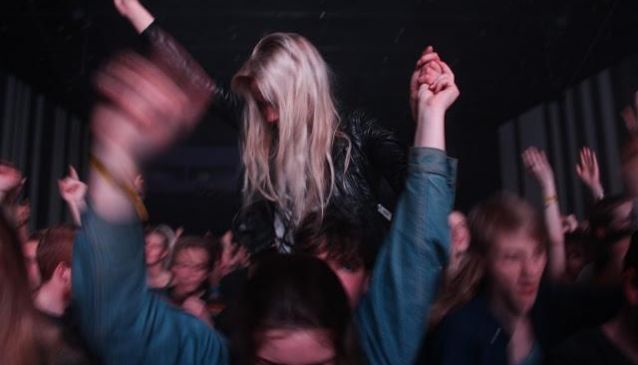 Icelandic Music You Need To Hear
Reykjavik
The big names in Icelandic music are known primarily for their ethereal quality.
Iceland has a population of around 320,000 people, yet despite our small size there are hundreds of bands and solo artists releasing albums year round. From the larger than life performances of Björk to the acoustic-guitar-playing-folk-singer in a small bar, Iceland is teeming with a variety musical talent, styles and musicians.
Why is there such a plethora of musical talent you may ask...? There are several contributing factors. The main one is most likely that any child that wants to learn how to play an instrument or sing can do so in their neighborhood music school. The tuition is largely paid through government subsidies, so almost all families can afford the cost. Additionally, there is a general cultural and social push. It is just something most families will encourage their children to do. Once in a band it is relatively easy to get going. Given that the individual has the passion, and a bit of talent, they are well on their way to becoming a successful musician, at least within Iceland.
The second reason is definitely the small size of our population which makes it is relatively easy to get attention. The main benefit of a small population is that bands and musicians can learn from each other. They can easily gain access to equipment and studio space through their network of friends and acquaintances. Another trend is for musicians to lend their talent to several acts at once. This can even become problematic for certain festivals when the same person is playing in more than one band and both bands are playing at the same festival.
Speaking of festivals, hands down the biggest and most popular one is Iceland Airwaves which opens tomorrow, as it happens.
Throngs of music loving travellers flock to the island in anticipation of several nights of music and party filled fun. This year Airwaves sold out months in advance. Thankfully, that should not stop those who are left empty handed from having a good time as the bountiful off venue schedule takes place during the same days as the festival proper.
There is no doubt that the success of Airwaves on an international scale has helped promote local talent and engender future music makers to create more and better quality stuff. On top of everything, competitions like Músíktilraunir are a great venue for up and coming bands to acquire a reputation.
The big names in Icelandic music are known primarily for their ethereal quality. The frontrunners of this music aesthetic are Sigurrós and as of recent years Jónsi, the singer of Sigurrós who has done some solo work.
Björk is known for creating music which has experimental and progressive qualities, shocking and titillating the senses of music lovers for decades.
More recent to the scene are Of Monsters and Men who are an animal all of their own, working primarily with a folky, indie sound.
The smaller and lesser known acts are by no means less interesting. Following is a small selection of some names you probably don't recognize, but wish you did. They are all playing at Airwaves 2013, as it happens, so location, time and date for Airwaves concerts are listed for each band as well:
Retro Stefson
Funky, fun and hip music that makes you wish you were cool.
Retro Stefson are playing Airwaves 2013 on Wednesday, October 30th at 23:20 in Harpa (Kaldalón).
OjbaRasta
Reggae with an Icelandic twist.
Playing at Airwaves 2013 on Wednesday, October 30th at 21:40 at Harpa Kaldalón; and on Thursday, October 31st at 22:00 at Reykjavík Art Museum.
Mammút
Girly modern experimental rock with some serious balls.
Mammút will play at Airwaves 2013 on Wednesday, October 30th at 22:30, at Harpa (Kaldalón); and on Saturday, November 2nd at 22:30, in Iðnó.
Múm
Eerie, slow and whimsical.
Múm is playing Airwaves 2013 on Friday, November 1st at Fríkirkjan.
Ásgeir Trausti
Beautiful flowing sound sprinkled with emotional tones.
Ásgeir is playing Iceland Airwaves 2013 on Saturday, November 2nd at 22:00, in Harpa (Silfurberg).
Samaris
Electronic music married to a beautiful voice.
Samaris is playing Airwaves on Wednesday, October 30th at 22:30, at Harpa Silfurberg; and on Thursday October 31st at 22:40, in Gamla Bíó.

The list of Icelandic artists could go on and on, for those lucky enough to have tickets, you can discover so much more at Iceland Airwaves.
For more awesome things to do in Iceland, check out our Event Calendar. For more articles about Iceland and Icelandic culture, check out our Travel Articles.
Written by:
Sigurthor Marteinn
PUBLISHED: Sep 26th 2017