Reykjavík Swimming Pools
Reykjavik
You get free access to Reykjavík's swimming pools with the Reykjavík City Card! Buy it here.
Anywhere you go in Iceland, there will be wonderful public pools with natural geothermal water, in addition to the multitude of natural hot springs all over the country. These might seem more like spas to the uninitiated, with hot pools for swimming and hot tubs for relaxing being standard issue, often with multiple hot tubs of differing temperatures, steam rooms and saunas, at a lower price than most shoddy public pools in other countries. This is because of the plentiful geothermal energy underneath the country which heats the pools and just about everything else as well. Usually, even the smallest town will have a pool(!) and sometimes these become the unofficial "hangout" place for young people, since there might not be much else to do in town, and after work the older generations tend to congregate in the tubs to discuss the issues of the day.
Reykjavík and the capital city area alone has more than 17 pools, (many of them included in the Reykjavík City Card). This is a rundown of some of the major ones. For more info about the Icelandic pool culture, read our article What To Expect in an Icelandic Swimming Pool(!)  
---
Sundhöll Reykjavíkur – The "Swimming Palace"
The original Reykjavik swimming pool, Sundhöllin, was drawn by Guðjón Samúelsson who also designed Hallgrímskirkja church, and was completed in 1937. It's an indoor pool with outdoor hot tubs and two awesome diving boards - just a stone's throw away from the main shopping street, Laugavegur.
Facilities
Pool length: 25 m. (80 ft.)
Hot tubs
Steam Bath & Sauna
Solarium
Hours: Mon-Thu 06:30-22:00, Fri 06:30-20:00, Sat-Sun 09:00-19:00
Address: Barónsstígur, 101 Reykjavík
---
Laugardalslaug – The "Pool Valley Pool"
There's no polite way to say this: Icelanders are not the most creative namers. That's how the valley with the geothermal pools in which the housewives of ages past used to wash things, wound up with the name "Pool-Valley" - Laugardalur. And then, in 1968, when they built swimming pool in that valley, the most natural thing to call it was the "Pool-valley Pool" - Laugardalslaug. We're sorry about this, but in our defense nobody consulted us in the naming process.
It's by far the largest swimming complex, sporting two olympic sized swimming pools (one out-door and one in-door), several hot tubs of different temperatures, steam rooms, water slides and more, so it's perfect for kids! There is also a world-class Spa on site, Laugar Spa, for those who want to take their experience to the next level.
Facilities
3 Pools: Outdoor – One 50 m. (160 ft.) and one 30 m. (100 ft.), Indoor – 50 m. (160 ft.).
5 Hot tubs, including a jacuzzi and one with heated seawater, in addition to a shallow children's wading "disc"
86 m. (282 ft.) water slide(!!)
Steam Room
Solarium
Hours: Mon-Fri 06:30-22:00, Sat-Sun 08:00-22:00
Address: Sundlaugarvegur, 104 Reykjavík. The pool is right beside the Reykjavik City Hostel & Camp Ground and a short walk from the Family Park and Petting Zoo, making it a very strong combination for kids.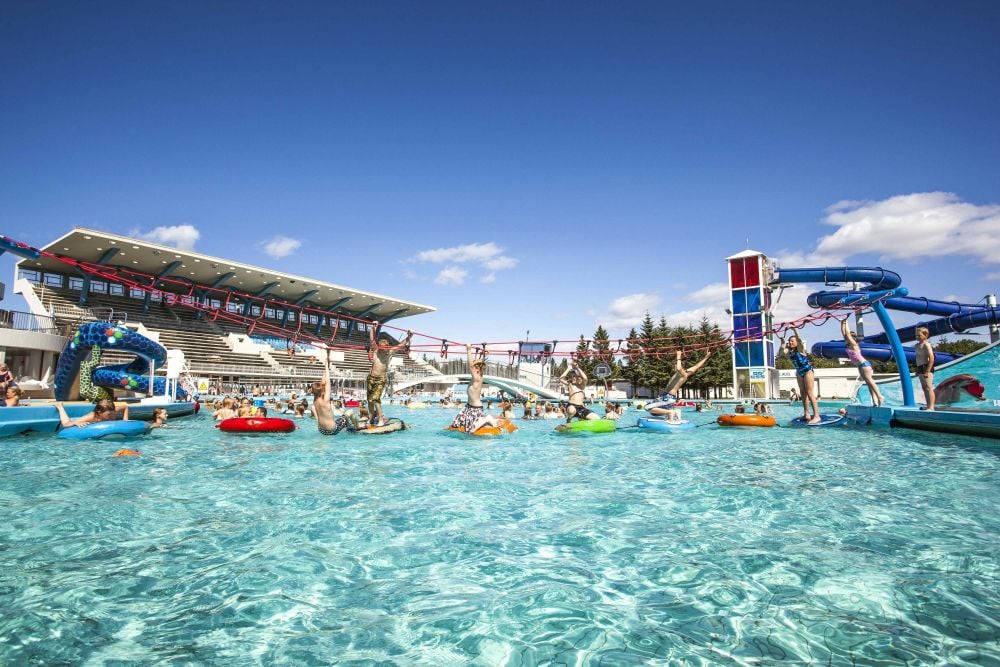 ---
Sundlaug Vestubæjar – The "West Side Pool"
The pool in the west side of town, which is also the oldest part of town, is just a short walk from the city center, so it might be a good place to relax before hitting the town on a friday night or to recover from a hangover on a saturday morning. It is smaller and cozier than Laugardalslaug and less likely to be crowded, while still offering ample facilities such as a children's pool, 3 hot tubs of varying degrees and a steam room.
Facilities
Pool length: 25 m. (80 ft.) connected to the children's pool
3 Hot Tubs
Solarium & Sauna
Hours: Mon-Thur 06:30-22:00, Fri 06:30-20:00, Sat 09:00-17:00, Sun 11:00-19:00
Address: Hofsvallagata, 107 Reykjavik
---
Nauthólsvík Geothermal Beach
The newest and probably most unusual addition to our flora of geothermal pools is the Geothermal Beach in Nauthólsvík. Now we know what you must be thinking: "Geothermal beach? What's that supposed to be? That's not a thing." And you would have been right until the year 2000, when we opened this thing. What is it? It's a man-made white sand beach (the only white sand beach in Iceland, cause all the sand here is black, created for the benefit of US soldiers after WWII) with a pool and a hot tub, in addition to an lagoon of seawater which is heated with the overflow from the pool, so as to be less cold than the ocean at large, though not as warm as the pool itself.
Nauthólsvík is a perfect place to spend a sunny day, especially with kids, and a popular place for sea baths, beach sports, kayaking and other aquatic activities. Admission to Nauthólsvík is free and it is open all day in the summertime but much less in the winter. There is a kiosk to buy light refreshments and a small fee for storing clothes in the dressing room. There is also a nice restaurant nearby called Nauthóll Bistro.
Facilities
Shallow "Sitting" pool
Hot tub
Lightly heated Ocean Cove of 1.500-4.000 m2 (16.000 ft2-43.000 ft2) depending on the tide.
Sweet white sand beach
Hours    - Winter (Jan 02-May 12) 11:00-13:00, + Mon/Wed 17:00-19:00    - Summer (May 15 to Aug 15) 10:00-19:00
Address: Ylströndin, Nauthólsvík, Reykjavík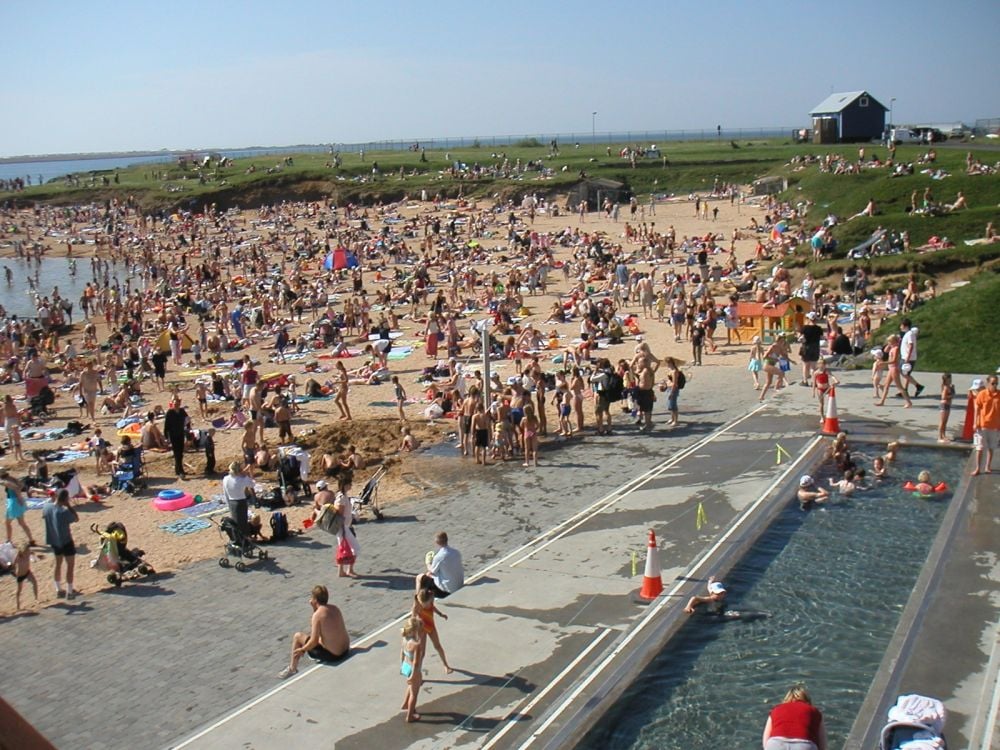 ---
Árbæjarlaug
This pool in the suburb of Árbær is near the open air museum Árbæjarsafn and is especially designed with children in mind, with its indoor children's pool, a paddling pool, water slides, fountains, and waterfalls, you can either swim in the pool or just splash around and explore.
Facilities
Pool length: Outdoor Pool 25 m. (80 ft.) + Indoor Pool + splashing pool
5 Hot Tubs, including jacuzzis
Children's things, water slides, fountains, waterfalls...
Address: Fylkisvegur 9, 110 Reykjavík