10 Iceland Hot Springs that Aren't the Blue Lagoon
Reykjavik
Everything you need to know about the other hot springs in Iceland
Our Top Experiences and Tours in Reykjavik:
If youʻre booking your trip to Reykjavik last minute, we have you covered. Below are some of the top tours and experiences!

Every traveler planning to go to Iceland knows about the Blue Lagoon. It's renowned for its beauty and soaking there for a few hours is just about heavenly, but what about other hot springs and pools in Iceland? We have just about an endless amount of them here, seriously there's SO MANY! Not to mention all the public pools, 17 in Reykjavik alone! So here are the top 10 hot springs in Iceland that aren't the Blue Lagoon.

Update: I recently wrote a sequel to this article called "10 more icelandic Hot Springs that Aren't the Blue Lagoon!"
---
Landmannalaug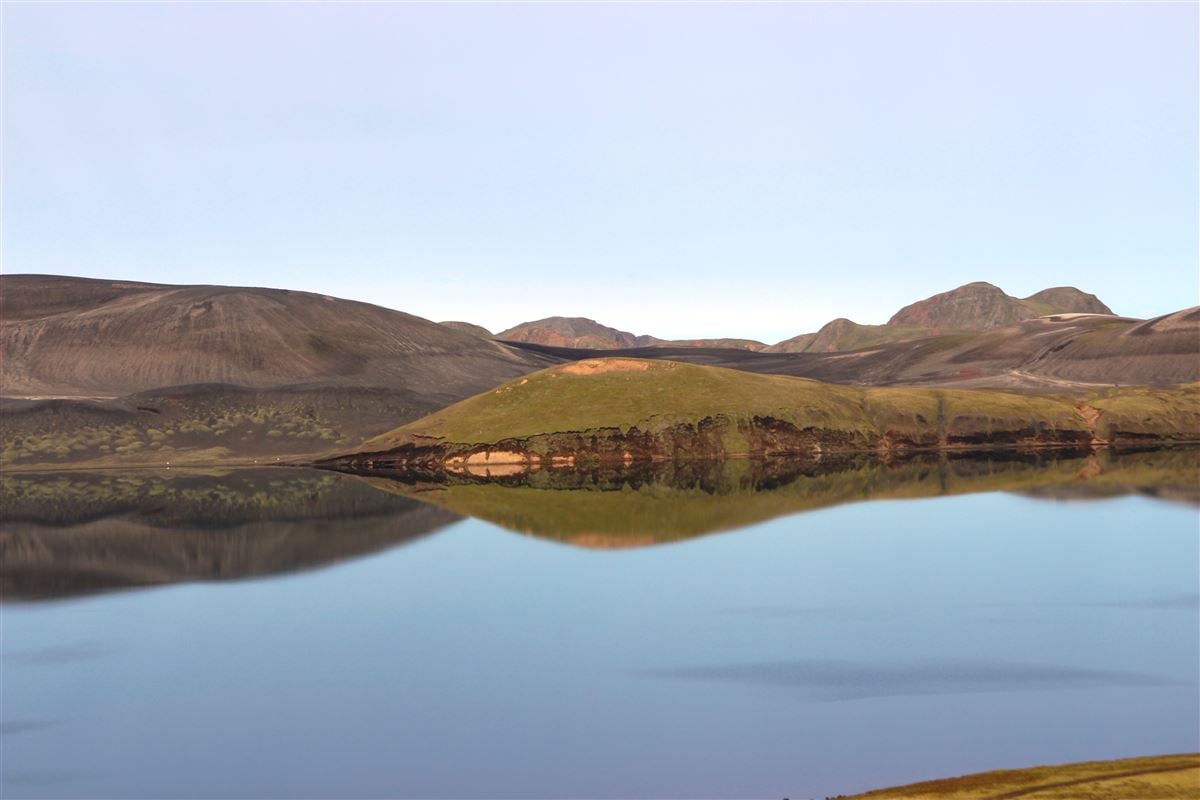 Landmannalaugar, meaning "The Common Man's Pools" or "The People's Pools", is a hiking paradise with all its contrast: vegetated – barren, steep – smooth, hot – cold. The area is famous for its unique landscape and relaxing hot springs. It's highly recommended to take a hike around the area and use the hot streams to let the fatigue fade away from your body.
Getting there : Driving to Landmannalaugar is not altogether straightforward, the mountain road is only open a few months a year, and even when it is it involves driving through rivers, which is generally not recommended if you're not used to it. We recommend taking specially outfitted bus or super jeep tour. If you're dead set on driving, from Reykjavík you follow route one south, turning left on route 30 until you get to the right-hand turn for route 32. This leads you neatly to mountain road F26, from which you need to turn on mountain route F208 to Landmannalaugar.
 
---
Laugavallarlaug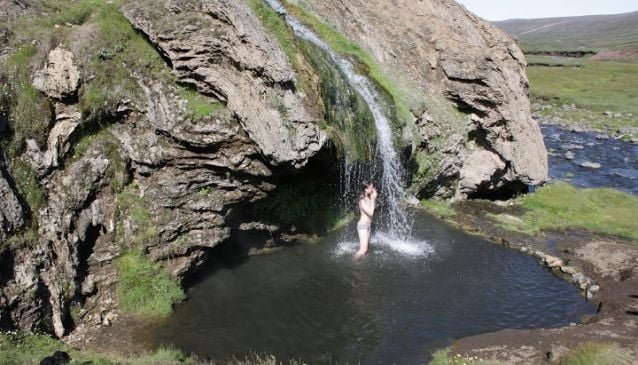 Photo Credit: Hot Pools in Iceland
The pool is located in Laugarvalladalur near Kárahnjúkar and can only be accessed in a 4x4 car. Here there are two hot streams; one above and one below. The one above is very hot and you should be very careful about bathing there. The one below is an absolute picture perfect bathing spot!
The stream above runs down a cliff and descends into a waterfall that hits the stream below. Where the two streams meet, one steaming hot and the other one colder, it creates the perfect temperature for a relaxing bath in the highlands. The bottom is sandy and has some rocks in it so you can't sit just anywhere.
Laugarvalladalur is in the beautiful highlands so this is a good spot for campers. Stories say this area is haunted so the questions is; are you brave enough to enjoy a relaxing bath before spending a night there?
This pool is on private land so please make sure to get the farmer's permission before bathing there.
Getting there : Make no mistake, this pool is so far in the middle of nowhere, google maps can't think of a way to get there: you will need a 4x4 vehicle, probably a big one. From the nearest population center, Egilsstaðir, take route one north and turn off on mountain road F907 to Laugarvalladalur valley. From there you may have to just plain hike up to the hot spring.
---
Seljavallalaug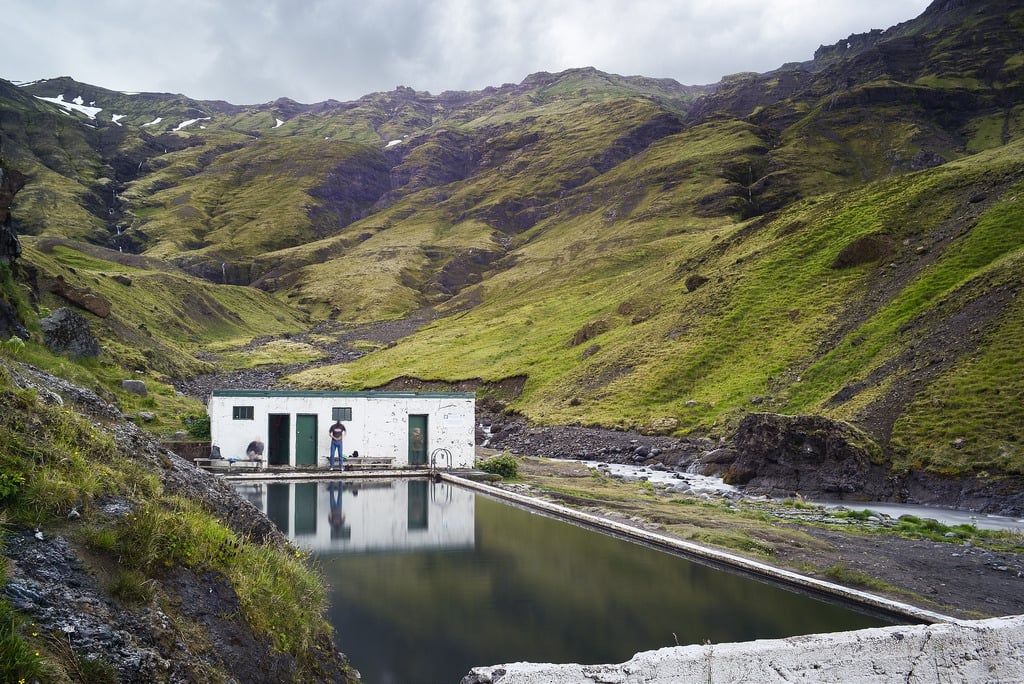 This is one of the best spots in Iceland's
south
coast where you can relax in breathtaking nature. Locals soon learned to appreciate the wonders of this place as some sort of facilities have been in place here since the early 20th century and it's one of the oldest still-standing pools in Iceland.
One side of the pool is the raw mountainside where hot water drips down into the pool. Seljavallalaug is located in the canyon Laugarárgil and Laugará river flows just next to the pool. The place is long renowned for its beauty and tranquility.
Driving from Reykjavik to Seljavallalaug takes about 2-3 hours, passing by some of Iceland's most beautiful landscape, such as Eyjafjallajökull and Seljalandsfosswaterfall. You turn left off the main road on route 242 and drive till you get to a parking lot, from whereit takes about 15-20 minutes to walk up to the pool but no worries – the walk is just as breathtaking as the pool itself.
---
Reykjadalur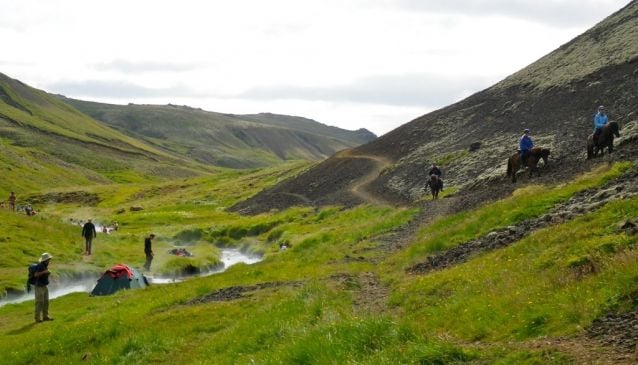 The name Reykjadalur litterally means ,,Steamy Valley" so anyone looking for hot springs should not be disappointed with this location. Reykjadalur is located in the south of Iceland near the town of Hveragerði, a town built on a geothermal hot spot, and around the town are hiking paths which show you the very best of the area. These hot streams are a hiker's paradise!
Getting there: From Reykjavik, take route 1 to Hveragerði, turning left at the roundabout and into the town. Follow the Breiðamörk road straight through the town and as it veers to the left until you find a gravel trail to the left. Drive to the end of the gravel road and park. From here you it's about an hour's hike on a trail due north to Reykjadalur. Or if you can't be bothered with the details, just take this guided tour.
---
Mývatn Nature Baths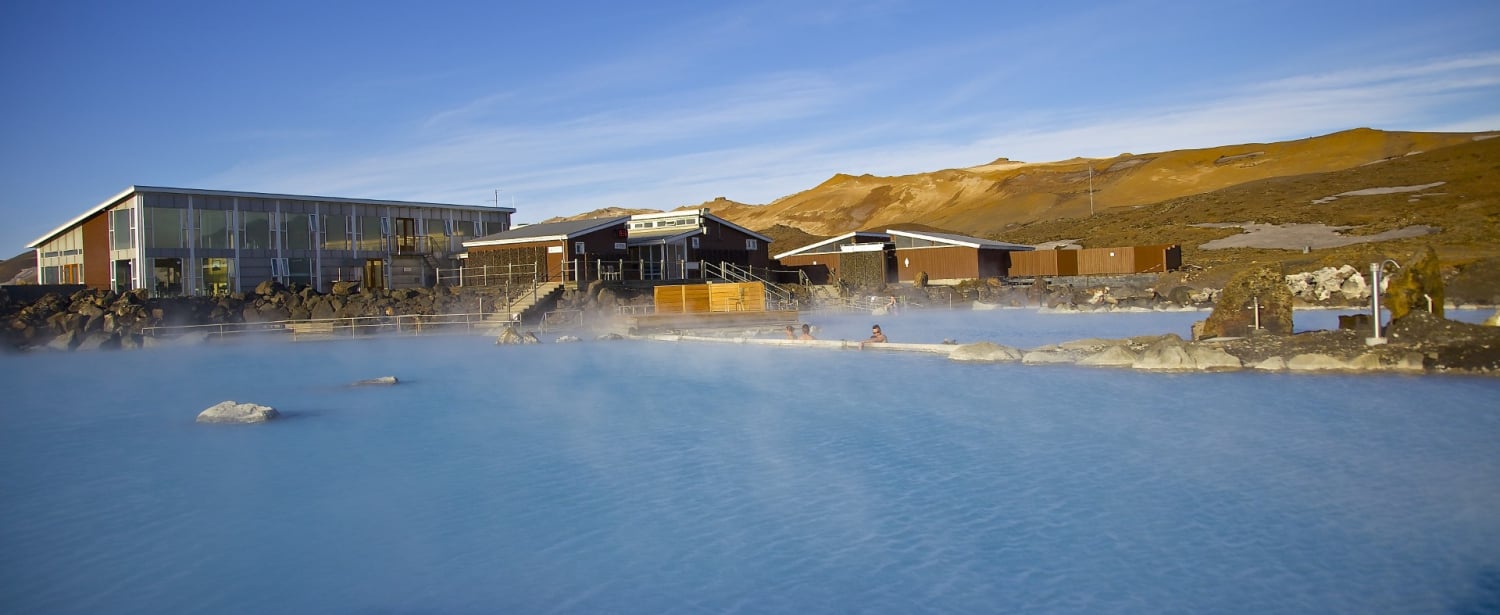 Up in the north there are two hot spots where you can soak after a day of exploring the area that is definitely worth a visit.
First up are the Myvatn Nature baths. This hot pool has been made into a spa-like area with fantastic facilities, cafe and even a sun patio if you don't want to go in the water but want to see the area. This is accessible by a regular car and there is an entrance fee if you want to bathe there.
---
Grjótagjá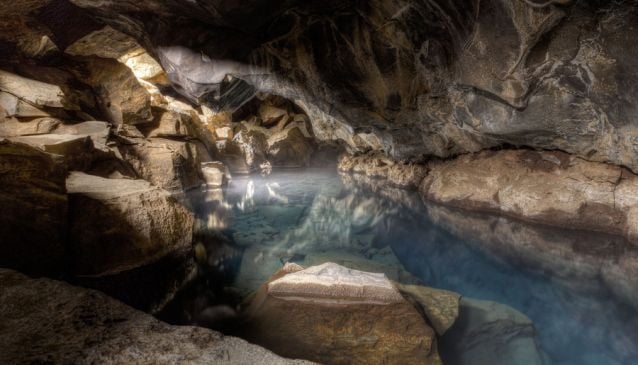 Photo Credit: Gilad Rom
Grjótagjá is an out-of-this-world beautiful cave discovered by English students in 1938. Its beauty even caught the eye of film producers, as scenes in the popular TV show Game of Thrones were filmed there and this fact has multiplied the pool's popularity. The pool wasn't always a good spot for bathing as it sits on top the tectonic plates of Eurasia and America and its temperature varies with Iceland's seismicity but it has been consistently good since 2004.
Also, local rumour has it that if you walk around this area you might stumble upon another relaxing, warm and hidden gem, but you didn't hear it from us.

Getting to Grjótagjá: From Akureyri, drive route one to the east, turning off on route 848 to the south of Lake Mývatn. Look out for gravel road 860 to the right, a.k.a. "Grjótargjárvegur". There is a camp ground by the turning so you shouldn't be able to miss it. After a short while you will come to the trail marked Grjótagjá, and from there you must walk.
---
Laugarvatn Fontana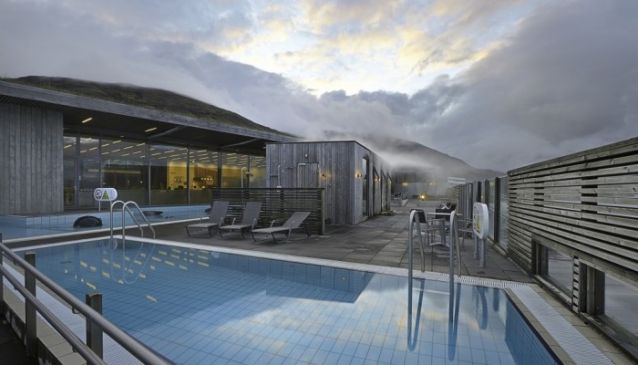 Image Credit: Fontana.is
Laugarvatn is a geothermal area that really has it all: steam rooms, hot springs, a beach and a lake. Since 1929 the locals have been enjoying the healing powers of the natural steam baths in Laugarvatn, where the nature has created a unique atmosphere. Laugarvatn is located 50 minutes from Reykjavík and is a perfect addition to the Golden Circle – Iceland's most popular attraction. The hot spring simmers directly from the ground through grids in the cabin floors and you can hear it bubbling under your feet as the steam fills the room.
There are three hot springs at the shore of lake Laugarvatn and they are all in a walking distance of each other. One of the hot springs is not used for bathing but for geothormal heating of all homes and buildings in the area. The hot springs that you can bathe in are Vígðalaug and Laugarvatn Fontana. Vígðalaug is one the most famous hot springs in Iceland because it was the site of a mass baptism for the entire Parliment of Iceland in the year of 1000. Laugarvatn Fontana is a facility built in 2011 where you can enjoy a relaxing bath in a modern setting.
To get there from Reykjavik, take route 1 north, turning right on route 36 to Þingvellir, and then follow road 365 to Laugarvatn.
 
---
Grettislaug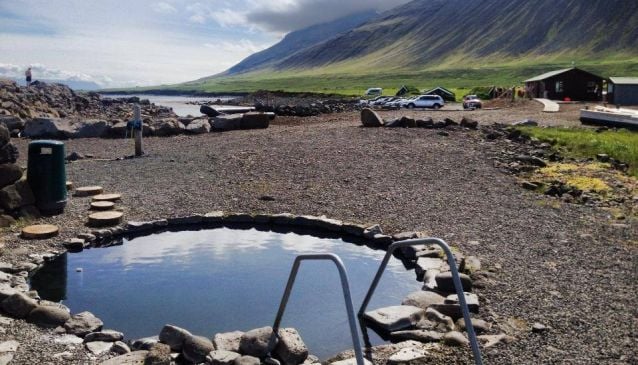 Image creditDrangey
This pool is located in Skagafjörður in the north of Iceland. It is named after the Icelandic saga 's biggest character; Grettir Ásmundsson (kind of a less chivalrous "Hercules" type). It is said he sat there a whole night after swimming out to Drangsey and back – an accomplishment he is famous for.
The surroundings of the pool was fixed up in 1992 and is today a very well kept and beautiful place. There is no entry fee into the pool but a local man decided to put a collection box by the pool. Donations are used to keep the pool and its surroundings intact and well groomed.
To Get there , take route one west from Akureyri, taking a right on route 75 towards Sauðárkrókur. Drive through the town and take a right on gravel road 748 toward Reykjaströnd until you get to the pool.
---
Laugafellslaug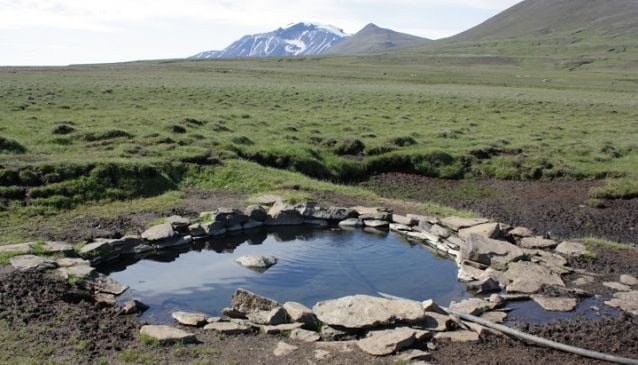 Photo creditHot Pools in Iceland
Laugafellslaug is a fairly big hot spring located just north of Laugafell, in the north of Iceland. There are a couple of hot springs there, some of which are too hot to bathe in, so be sure to go into the one that has obviously been fixed up a little.
Around it are a couple of huts that you can use to change clothes. In the area are also the Hofsjökull's lakes where trout fishing is good.
This pool is the perfect spot to rest a tired body after a day of fishing or for a group that just wants to get away from it all and soak in the middle of nowhere.
Getting there : You'll need a good 4x4 car and please check the road conditions and the weather forecast, in addition to seeking advice from locals, before setting off. From Akureyri, take road 821 (which becomes mountain road F821), called Eyjafjarðarbraut vestri, for about 2.5 hours.
---
The Secret Lagoon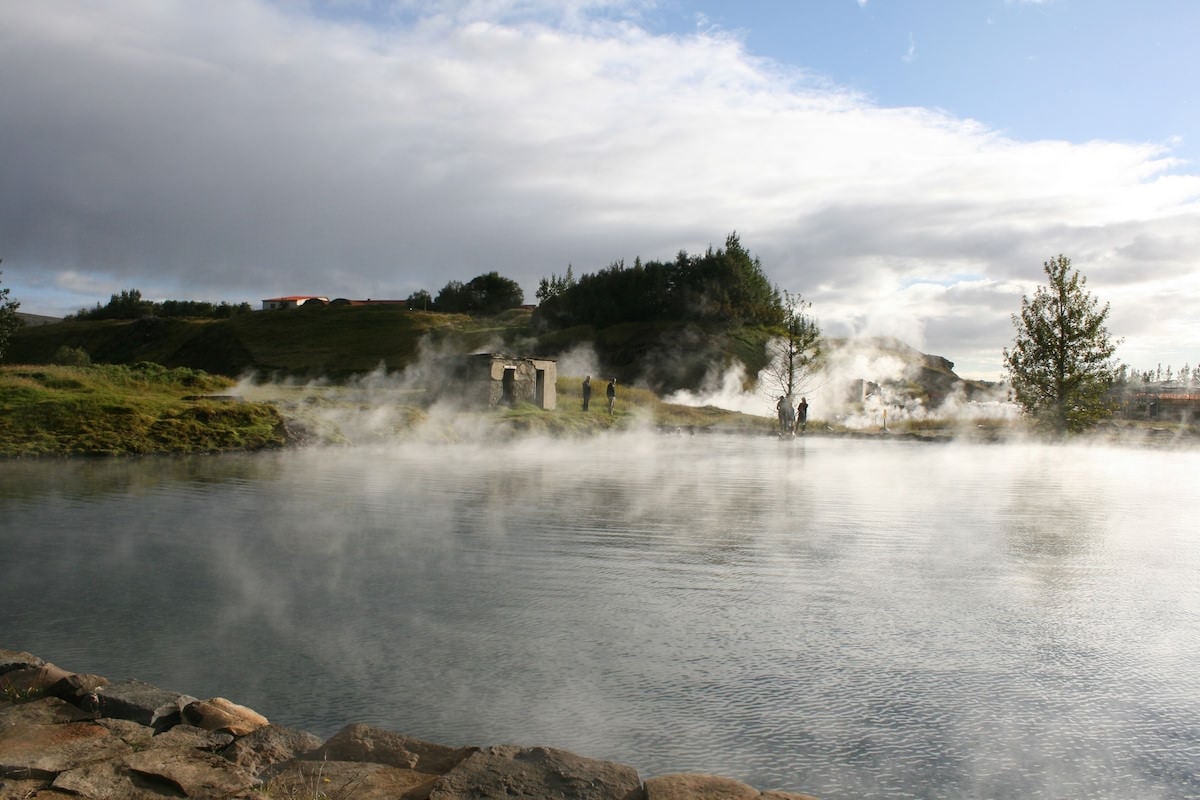 This pool was made 1891 and is the oldest pool in Iceland. This used to be a place where the locals would wash their clothes and take baths. The first swimming lesson there took place in 1909 and was held every year until 1947. From 1947 the pool fell into oblivion, since there is a modern swimming pool in Flúðir, a town nearby.
Now the pool has very recently been renovated and reopened. The old greenhouses have been turned into changing facilities and there are many hot springs in the area, including tiny one that spouts water into the air every few minutes.
Getting there from Reykjavík: Take Route 1 South and turn left on route 30 until you get to the village of Flúðir. From there it should be simple enough to find Hvammsvegur and the Lagoon!
 
---
[Edit: since this article was published it's become quite popular, so we feel it's our responsibility to point out that: many of them are quite small, some of them are on private land, and the nature pools only have minimal service, if any. The point being - please treat them with respect. Don't leave any trash, be clean before you go in and leave it as nice as you found it.]