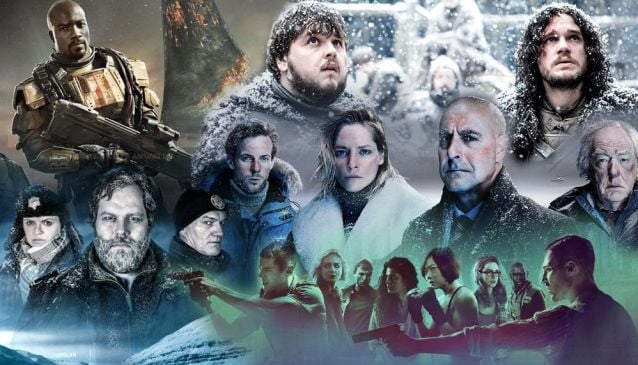 5 Famous TV Series Shot in Iceland
Reykjavik
Game of Thrones features dragons, wars, raunchy incest, and a peaceful little country called Iceland
Iceland has in recent years become a very popular spot to film major Hollywood blockbusters and, increasingly, ambitious mini-series. This is not surprising since the country offers extremely varied landscapes, otherworldly sceneries and magnificent views, including glaciers, volcanos, and hot springs, while conveniently located near both the US and Europe.
Here are some recent and upcoming TV series shot in Iceland:
This highly unusual murder-mystery series takes place in the fictional arctic town of Fortitude, which has a mixture of Scandinavian and English population. It is seemingly inspired by the recent popularity of Scandicrime, with its slow, minimalist pacing, and it plays with eerie themes using supernatural, sci-fi and horror elements.
The show has a star-studded cast, with Stanley Tucci, Michel Gambon, Richard Dormer, Sofie Gråbol, Christopher Eccleston, Nicholas Pinnock and Jessica Raine, and even casts local Björn Hlynur Haraldsson as officer Eric Odegard, the husband of Gråbol's character.
The series is filmed in Reyðarfjörður in the East Fjords, and the scenery of Iceland definitely plays a big role in the show. The isolation and of the small town and silence of the surroundings sets the stage for the intense drama playing out, and the looming mountains and ever-present ocean make you feel small and insignificant. (Scroll down to keep reading)
Take a look behind the scenes:
How to get there: You probably need a car. Drive Route 1 to the east of the country.
If you're approaching from the south, for instance from Höfn, you need to turn off to the right on route 96 from Breiðdalsvík and that will lead you right there. If you're approaching from the north, say from Akureyri, you need make a left on route 92 from Egilsstaðir. Or just ask any local on the way, people are helpful and most everyone speaks English.
Photo credit: Reyðarfjörður by Tristan Ferne
The Wachowskis' new sci-fi drama focuses on 8 individuals who are mysteriously linked through their sensations ( - hence the name, a play on the word "sensate") so their memories, skills and experiences are interlinked, as well as their sight, hearing, and other senses - so as you can imagine things tend to get a bit steamy.
The people are from all walks of life, different races and nationalities, rich and poor, male and female, though by an astounding coincidence they all seem to be deadly killers and/or professional sexworkers, at least judging from the trailer:
One of the characters involved is described as a "party girl" from Reykjavík, and according to one source they did some shooting in Akranes, north of Reykjavík.
How to get there:To get to Akranes, you can take the city bus or rent a car and head north on route 1, taking a left on route 51 after the Hvalfjarðargöng tunnel. It's about a 45 minute drive from Reykjavík. No promises about kung-fu fighting supersensate supermodels.
Photo Credit: Akranes Lighthouse by Atli Harðarson
Halo: Nightfall continues the long-standing tradition of using Iceland to depict any non-earth-like location, as the producer, Ridley Scott, did once before, in the movie Prometheus. The show, based on the popular video game Halo, is a web-based mini-series produced by Microsoft in a bid to get into the online-TV game.
In the show, a team of specialist "Spartans" investigate terrorist activity on a remote colony world, while the world at large deals with a terrifying biological attack. The show mixes themes of thrillers, sci-fi and horror to form an engaging narrative.
If you look at the trailer you can very much see that the rocky landscape of the Reykjanes Peninsula plays a prominent role in setting the stage of a bleak and desolate world.
How to get there:
Reykjanes is right by Reykjavík, so take a day tour on a bus or rent a car and drive there. If you head towards Keflavík Airport on route 41, you can take a left on route 42 right after Hafnarfjörður. This will bring you into the heartland of Reykjanes with many interesting sites to explore.
Photo credit: Reykjanes by Soffía Snæland
Trapped is the brainchild of Icelandic director and producer Baltasar Kormákur, who is probably best known for directing the Mark Wahlberg vehicles Contraband and Two Guns. The Scandicrime drama follows a story where a Danish cruise ship pulls into a sleepy Icelandic fishing village, just as a badly mutilated corpse is found in the dock.
The police chief realises there's a murderer on the loose just as a massive storm hits, trapping everyone in the town, the murderer among them. The tension mounts as the body count climbs. The mystery has social and political implications, and the show explores amongst other things how the economic collapse of 2008 has affected Icelandic society.
The series, which was announced at the MipTV conference in Cannes last year, is the largest project ever funded by RÚV, the National Television Service of Iceland, at 7 million Euros. The series is executive produced by Dynamic Television, and has already been picked up by BBC4, France Televisions, and ZDF in Germany, amongst other international channels. The musical element is in the capable hands of Icelandic composer Johann Johansson, who was recently nominated for his work on the Theory of Everything, starring Eddie Redmaine.
On the surface this seems not unlike the plot outline from Fortitude, which is a shame since Baltasar has been working on this idea since at least 2012, but a few things set the series apart; for one thing it is shot in Icelandic, and for another there's no indication that the show will play on supernatural or surreal elements as the other show does.
The show is rumoured to have started shooting last fall, and slated for release in autumn 2015. It will feature many of Iceland's most prestigious actors, such as Ólafur Darri Ólafsson whom you might recognise from The Secret Life of Walter Mitty and Contraband, and Ingvar E. Sigurðsson, who's starred in other scandicrime flicks such as City State and Jar City, and will play a role in Baltasar's upcoming blockbuster Everest alongside Jake Gylenhaal, Keira Knightley, Jason Clarke and Josh Brolin.
How to get there: The series hasn't been released yet so we can't say for sure, but the promotional material definitely features Seyðisfjörður, a small town in the north-east of Iceland. Rent a car and drive east on route 1 until you get to Egilsstaðir. From there you take route 93 to Seyðisfjörður.
Photo credit: Seyðisfjörður by Stig Nygaard
Game of Thrones is based on the vastly popular books by George R. R. Martin and features dragons, wars, incest, raunchy skin scenes and graphic violence, and a cute, peaceful little country in the North Atlantic called Iceland.
The show films all over the island; in general everything that happens "north of the wall" is shot here, and many other scenes as well. For instance that famously raunchy scene with John Snow and Ygritte in the cave (NSFW) was shot in Grjótagjá in Northern Iceland.
There have also been some notable appearances by Icelanders in the show, from the casting of Icelander Hafþór Júlíus Björnsson as villain Gregor "the Mountain" Clegaine, to the appearance of Icelandic indie band Sigur Rós as the court musicians impatiently pelted with gold by prince Joffrey, to the prominent appearance of some Icelandic goats in an landmark scene:
These goats are the hottest performers in Iceland right now.
Locations include Þingvellir National Park, the South Coast, as well as Grjótagjá, the hot spring from that steamy scene with John and Ygritte.
How to get there: Þingvellir is part of the Golden Circle, so it's easy to get to whether by bus or by car. The South coast is is easy to drive to via route 1, and to get to Grjótagjá, you can follow the instructions in this article.
Photo Credit: Grjótagjá by Dan
Written by:
Sigurthor Marteinn
PUBLISHED: Sep 26th 2017