Iceland Self-Drive: The South Coast
Reykjavik
Skógafoss waterfall was used in Thor 2: The Dark World. Also Beyoncé seemed to really like it...
Iceland DIY (Drive It Yourself) – The South Coast
The South Coast is probably the second most popular sightseeing day trip from Reykjavík after the Golden Circle. (For a self-drive tour of that; click here.) To the south, you'll usually go on route 1 as far as the town of Vík, with looming mountains on one side and the ocean on the other, stopping at different natural wonders and sites along the way, and then turn around to head back. The major sights include two waterfalls, Seljalandsfoss and Skógafoss, black-sand beach Reynisfjara by Vík, and possibly a hike on Mýrdalsjökull glacier.
There are a lot of ways to see the south coast, including any number of tours, but if you want to rent a car and Drive It Yourself, here's how you do it:
Getting off on the right foot
Reykjavík is incredibly simple to navigate, as there are three ways out of town; route 41 west, route 1 north and route 1 south. You are, you might have guessed, going on route 1 south. What you do is you find the main road Miklabraut in town and follow it west, past two gas stations on the right, and then you find a right-hand turn going towards Vík, marked for route 1S. After that it's a straight and narrow road the whole way there – Iceland basically only has one highway which goes the whole way around the island.
How to get on route 1 South via Miklabraut.
The Heath
After leaving town, the road elevates pretty quickly until you're on the "heath" (Hellisheiði). In the winter this area might get temporarily closed due to snowfall, so be sure to check the road authorities' website before setting off.
On the heath you will see signs for the Geothermal Energy Exhibition, a live Geothermal Power Plant you can take a really cool tour around.
The heath is also where you would turn off on route 39 if you were travelling to Eyrarbakki. Route 39 takes you through endless moss-covered lava fields as far as the eye can see. Eyrarbakki is a tiny little town which about 150 years ago was bigger and more important than Reykjavík. That's why it has a lot of historic houses, and why the queen of Denmark chose to donate the altar piece she painted to the big old wooden church there. There is a cool folk museum documenting the history of the town and the country, and in the Red House you can get some pretty rocking lobster soup on the cheap. (It's a small town so the church and museum might not be open all the time - look into that before you set off.) You can also just park the car, admire the town and walk along the coastline to some dramaticly breaking surf. You kind of have to choose between Eyrarbakki and Hveragerði though, but you could do one on the way out and one on the way back.
Hveragerði
If you stay on route 1, the heath ends abruptly with a steep descent into the charming town of Hveragerði. Built on a geothermal hot spot, in the town and the valley around it you can see lots of columns of steam rising up here and there. There's a couple of great restaurants to stop for food here, including Kjöt & Kúnst and Fákasel Horse Park. Fákasel also has a really cool horse theater and KronKron design store. Hveragerði is also where you start the hike to Reykjadalur valley where you can bathe in a natural hot river. If you want to do that just ask at the local information center.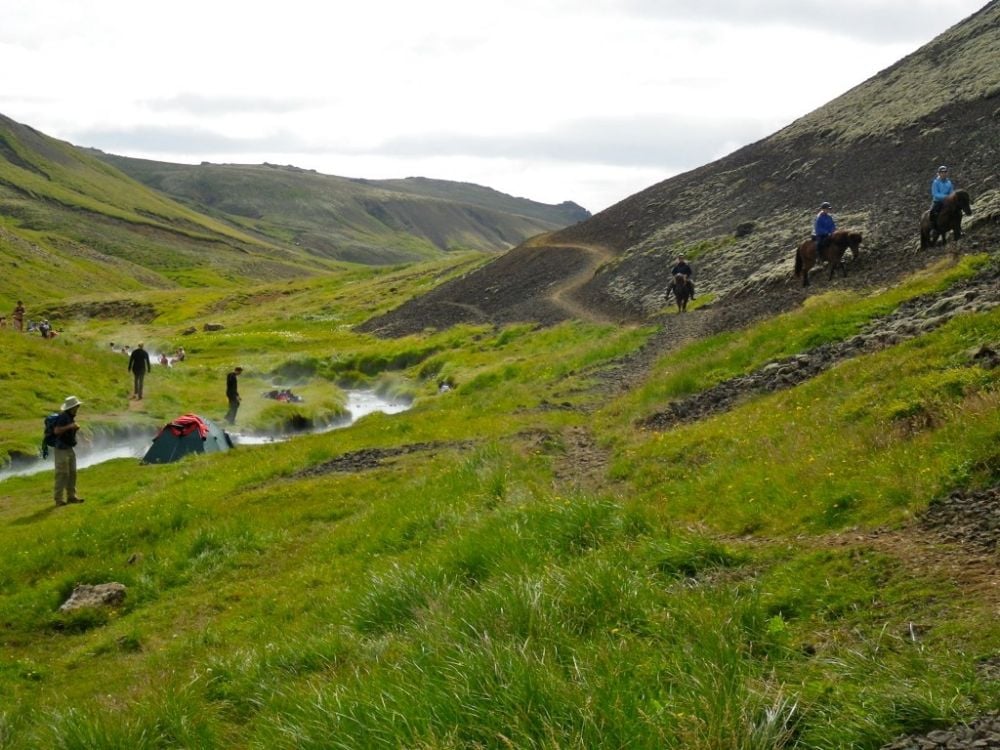 Photo credit: Peggy Sue
Other things
After Hveragerði, you will drive through the small town of Selfoss. If you wanted to stop here, you could visit the Riverside Spa at Hotel Selfoss or get some ice cream at Huppa ice cream parlour.
You could turn off the main road and go to Kerið volcanic crater or even the Secret Lagoon pool, but you might be better off saving that for the return journey.
Two waterfalls & two museums
After Selfoss, it's about an hour's drive to Seljalandsfoss, an incredible waterfall which falls in the mouth of a cave, so you can walk the whole way around it. This is definitely one of the most beautiful and serene places you can see in Iceland – or maybe the world.
After that, you drive past Eyjafjallajökull, the volcano/glacier whose eruption grounded all those planes in Europe in 2010, and then the Iceland Erupts exhibition at Þorvaldseyri, which was set up by the people whose land was devastated in that eruption.
This is followed by the excellent folk museum at Skógar, as well as Skógafoss, a huge waterfall which was used as one of the settings for the movie Thor 2: the Dark World. You can walk all the way up to it, if you don't mind getting drenched in the spray emanating from its base, which is really cool and fun – just ask Beoncé.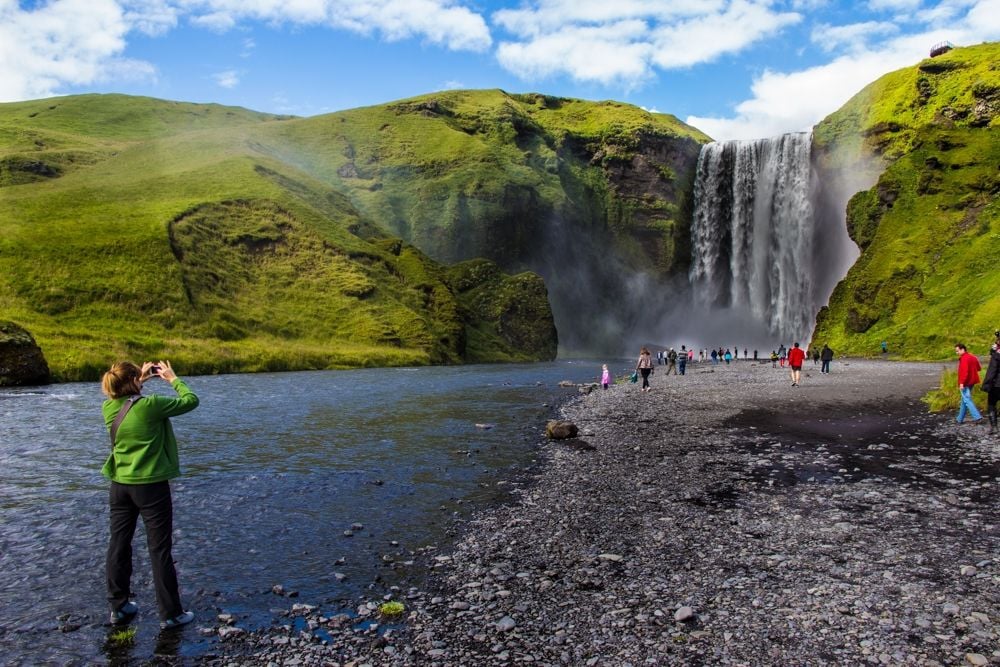 Around this time you start to notice the huge glacier to your left. Its name is Mýrdalsjökull, but you might hear it refererred to as Sólheimajökull, which the part of it that people most often climb. Yes, that's right, if you want to climb this glacier, you totally can, but please don't try it without the right equipment, experience or preferably on a tour, and in that case you probably want to book ahead to make sure you get a spot.
Vík
Vík is a gorgeously picturesque little fishing town on the southernmost part of the Icelandic coast, beautifully situated with a mountain range on three sides and an ocean on the fourth. That being said it's a small town, so don't expect any all-night malls, or even for all the restaurants there to be open on any given day.
Vík is generally where people park their car and walk down to the black-sand beach Reynisfjara. Although basically the whole south coast is black sand, and most all sand in Iceland is black, this is a convenient place to pull over and see the long, beautiful beach with some interesting rock formations in the bay. It also has the benefit of being able to see some cool rock formations called basalt columns, such as at Hálsanefshellir cave, which was prominent in Darren Aronofsky's movie Noah.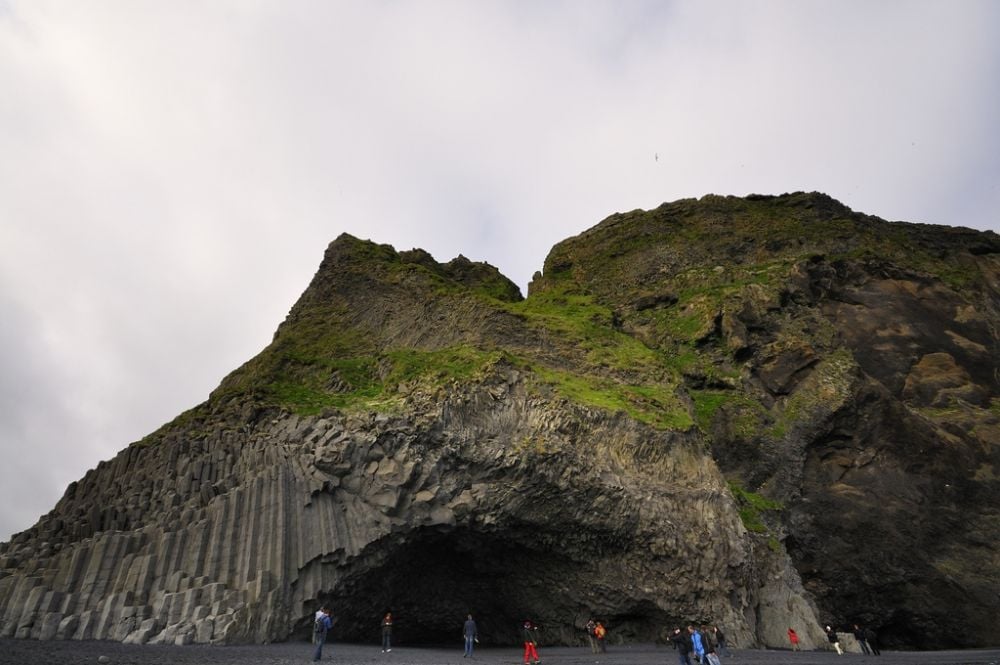 (Photo credit: Johan Wieland)
Southern Iceland is also where you go to Þórsmörk, a beautiful, untouched wilderness in the highlands north of Mýrdalsjökull, but for this you need to be driving a fairly serious 4WD vehicle and know how to drive on rough mountain trails. Barring that, you can take the bus or a jeep tour to get there. (Read more about Thorsmork here).
Vestmannaeyjar
One other thing you might want to throw into the mix is Vestmannaeyjar - the Westman Islands. This is a small cluster of islands off the south coast of Iceland. Herjólfur, the ferry to the island, sails from Landeyjarhöfn (unless the weather is really bad, then it sails from Þorlákshöfn but then you probably don't want to go sailing on those days anyway). This is a great place to see puffins, explore the Eldheimar Volcano Museum or go on a RIB safari boat tour.
There and back again
Most people, after getting to Vík, will turn around and start heading back to Reykjavík. It should be about 2.5-3 hours straight driving to get here, but of course it's no rush and you can always stop somewhere on the way to get some dinner or something.
Another thing a lot of people do is to keep going to the East of Iceland, even sometimes spending the night around Vík before continuing on. The east is a bit beyond the scope of this article, but stay tuned for the upcoming installments of 'Iceland DIY' which will deal with more parts of the country.