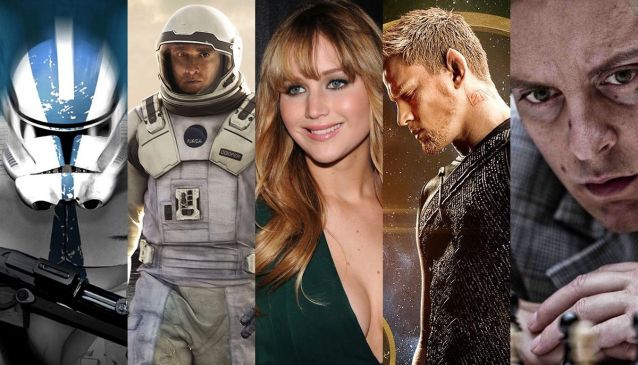 5 Upcoming Major Hollywood Movies Shot in Iceland
Reykjavik
Newly released footage trailers certainly do include some 'ice-planet'-ish scenes, and space-dogfig
We've covered before how popular Iceland has become recently as a filming location, serving as a backdrop to movies like Thor II, Star Trek Into Darkness and Noah, to name a few. We also alluded to the trend where Iceland is usually used to depict just about anything but Iceland, most notably outer space, a land before time or a post-apocalyptic future.
The trend shows no signs of letting up, as we can see from the barrage of upcoming movies filmed to a greater or lesser extent in Iceland. Heavily featured are space movies, but the crop of upcoming star-studded, big-budget Hollywood movies is is varied and interesting. Here are some prime examples...
IT'S FINALLY COMING! J.J. Abrams' long-awaited sequel to the Star Wars Trilogy, titled Episode VII, will premiere this December 18th, 2015. Specifics are hazy and rumours abound but we know the events of the movie will take place about 30 years after Episode VI: Return of the Jedi, and focus on three young characters, portrayed by relatively unknown actors. It's also known that the stars of the original trilogy; Harrison Ford, Mark Hamill and Carrie Fisher, will reprise their roles in some way, shape or form.
Some of the second unit filming for the movie took place in Iceland as early as March last year, sparking rumours of a return to the Ice-Planet Hoth, featured in Episode V: The Empire Strikes Back. This is not certain, however, since Iceland has hugely varied landscapes, but Roger Moore alluded to scenes of Ice and Snow on the Graham Norton Show.
The official story is that the Icelandic scenes will mostly be used for landscapes and backgrounds, but there are also rumours of Chewbacca and "Old-Skool" Stormtroopers meeting in the scenes in question. Knowing Chewbacca and Stormtroopers, this is likely not a friendly meeting.
[Update October 2015] - Newly released footage trailers certainly does include some 'ice-planet'-ish scenes, and a fight between lots of different spaceships.
'Old Skool' Stormtrooper (Photo Credit: Lucasfilm)
What Scene and Where?
Very little is currently known about the story of Episode VII, and the team was very secretive about where they filmed in Iceland. Rumours have circulated the names of Langjökull and Eyjafjallajökull glaciers, which seem consistent with the idea of an Ice-planet, but nothing is confirmed.
How Do I Get There?
Both glaciers are in southern Iceland. The preferred way to see Langjökull would be to take a jeep tour there and ride a snowmobile on the glacier! Or if you're the independent type, in the summertime you could just drive route 1 north from Reykjavik, turning right on route 36 and then drive until you get to mountain route 35 which leads to route F336(but you need a serious vehicle for this)
Eyjafjallajökull is in the south of Iceland, and in order to see it from a distance you could just drive route 1 south from Reykjavik. However, to get up onto the glacier, you need to take a tour with someone who knows what they are doing.
(Main Photo credit: Daniel. The photo depicts Langjökull Glacier - A.K.A. Ice planet Hoth?)
We don't know much about Christopher Nolan's Interstellar, but we do know it's gonna be absolutely CRAZY!
After a catastrophy has destroyed all crops but corn, McConaughey must travel through time via a black hole to try to save all mankind. Filmed extensively in IMAX technology, the movie offers space exploration, time travel and interdimentional beings.
It was co-written by the same astrophysicist who co-authored the 'childishly simple' movie Contact (1997), and directed by, again, Christopher Nolan, who is not exactly famous for his straightforward narrative style: this movie basically promises to blow your mind out of your ears and leave smoking craters in your eye sockets. Where to film this paragon of madness? Why, East Iceland, of course!
What scene and where? To be fair, since little is known about the movie, we don't know what part of the movie they filmed here, but since Iceland isn't exactly famous for its expansive corn fields, we're gonna go out on a limb and say it's some of the space scenes.
According to the website filminiceland.com the film was shot partly in eastern Iceland by Skaftafell, which is part of Vatnajökull, the largest icecap in Europe. This is the same area as volcano Bárðarbunga, which is currently experiencing some volcanic activity. The leaked script [SPOILERS (duh)] mentions a barren planet, and judging from the most recent trailer, it could well be Vatnajökull glacier. Incidentally, it would not be Nolan's first visit, since he filmed part of Batman Begins in the same area.
Christopher Nolan on set (Photo Credit: Paramount & Warner Bros.)
Mhmm.. And How Do I Get There?
To get to Vatnajökull, you would drive or fly from Reykjavik, take an organized tour or take a bus. Beware, though, that it's about a 6 hour drive from Reykjavik, so a day tour is an awful lot of driving. Of course a more exciting way to see it would be from the air, for instance from a scenic flight of the current volcanic eruption.
(Main Photo Credit: Jason Paris)
The movie deals with the space adventures of a young girl named Jupiter, which is very cleverly also the name of a planet (in SPACE, GET IT?!?). Young Jupiter must challenge the "queen of the universe" (no. really.) and presumably ASCEND to some lofty postition (GET IT?!? IT'S CLEVER!!!). It's hard to gleam from the trailer but we imagine Iceland depicts some alien vista or another.
The movie is directed by the Wachowskis and stars Mila Kunis as Jupiter and Channig Tatum as her space-elf companion, and it in NO WAY RESEMBLES ANY PREVIOUS WACHOWSKI MOVIES. For instance, it is a girl who discovers all reality is an illusion and she is predestined to be the one to free humanity with slow-motion martial arts, and the film is set in space (and not, for instance, in cyberspace). See? Totally original. It is slated for release on February 6th, 2015 and all kidding aside it looks like it's gonna be buckets of fun.
Also, interestingly enough, Channing Tatum apparently saved Mila Kunis's life during the filming, by 'karate kicking' a camera out of her way. That has nothing to do with Iceland, we just thought it was hilarious, as well as reaffirming our perpetual man-crush on Channing Tatum.
Which scene and where? It's hard to say, after scrutinizing the trailer, and making sure Iceland does not have any cornfields or giant arched hallways, and precious few skyscrapers, we have concluded that the movie must include at least one scene not pictured in the trailer, and that will be the one filmed in Iceland. An educated guess would be that Iceland provides background vistas of some alien planet.
Ok this one isn't confirmed yet, but according to the Guardian, Jennifer Lawrence is in talks to star in a movie based on the vastly popular book Burial Rights by Hannah Kent.
The historical novel deals with a young woman named Agnes Magnúsdóttir, who in 1892 was tried and executed for conspiracy to commit murder and cover it up by burning down a house. She was the last person to be executed in Icelandic history.
Which Scene and Where?
This is all very speculative, but if the movie is shot where the events actually occured, that will be at Illugastaðir, in Northern Iceland. However, since Illugastaðir is where the murders took place and more to the point the farm was burned, they might use a stand-in. Then they might prefer to film at, for instance, Glaumbær (pictured left), which has a very realistic "restored" turf house.
Alright. So how would I get there?
To get to Illugastaðir you could rent a car and drive from Akureyri, taking route 1 east until you get to route 831, which leads to route 836 to Illugastaðir. Illugastaðir is a nice summer-cottage area now, and there's a little pool there.
To get to Glaumbær, you would take route 1 west from Akureyri until you turn right on route 75, towards Sauðárkrókur. About 15 minutes up the road you'll see Glaumbær on the right-hand side, easily distinguished by the red-thatched church and, you know, the turf house.
(Photo Credit: R H. The photo depicts reconstructed turf house Glaumbær)
A movie about the legendary Chess World Championships meeting of Bobby Fischer and Boris Spassky in Reykjavik, 1972, often dubbed the "Match of the Century".
Since the match took place in Iceland, it was only natural that the movie would be partly filmed here. The setting becomes particularly prophetic in the light of the events that followed - after being incarcerated for 8 months in Japan, Bobby was granted full citizenship by Iceland and spent the last few years of his life here.
Which scene and where? Call us crazy, but since the actual match took place in the Laugardalshöll sports arena, we would think they filmed it there. But according to icelandcinemanow.com it was actually filmed in the Snæfellsnes peninsula in west Iceland, and most of the movie was shot in Canada. You might remember the name Snæfellsnes as the site of filming for another major blockbuster, The Secret Life of Walter Mitty.
Tobey Maguire as Bobby Fischer in upcoming 'Pawn Sacrifice'. (Image: IMDB)
Ok, cool. So how do I get there?
Well you could drive north from Reykjavik on route 1, turning left on route 537 from Borgarnes which then leads to rout 54 to Snæfellsnes. Or you can take a day tour on a bus!
(Main Photo Credit: Ophelia Photos)
Written by:
Sigurthor Marteinn
PUBLISHED: Sep 26th 2017