Iceland Self-Drive: Snæfellsnes Peninsula
Reykjavik
Snæfellsnes is so diverse; with black and yellow beaches, cliffs, waterfalls, caves, lava-fields..
Snæfellsnes in western Iceland is one of the most diverse areas in the country. It will show you black and yellow beaches, cliffs, waterfalls, caves, mountains, lava fields and much more - and all of this is watched over by the magnificent Snæfellsjökull glacier.
It's debatable whether the glacier is the entry to the Center of the Earth (as Jules Verne seemed to think), the meeting point of aliens or a mysterious and powerful energy center, but I can tell you for sure that it's absolutely gorgeous. Snæfellsnes is conveniently located within day-tour-distance from Reykjavík, so don't miss it while you're in Iceland. You have the choice of taking a guided tour or renting a car and driving yourself, but since you're reading a self-drive article, I'll assume it's the latter.
Here are some of the major attractions in Snæfellsnes - there are too many to cover all of these in one day, but you can either pick and choose which ones to see, or you could even spend the night out there and do all of them. You won't be bored if you do - there's a lot to see!
10 things to see, to be exact.
1. Eldborg
This picturesque, symmetrical crater stands alone in the middle of a lava field on the way to Snæfellsnes. The last eruption there was about 5000-6000 years ago.
How to get there:
From Reykjavík, head north out of the city on route 1. Go through the Hvalfjarðargöng tunnel (costs about 1000 ISK), and over the bridge into Borgarnes. Here you turn west on route 54 and drive about 25 minutes until you get to Snorrastaðir. This is a farm where you can go horse riding, and also where you start your walk to Eldborg.
Then it's a short walk (half an hour each way) through the lava field and to the top Eldborg, where you can look into the crater and enjoy the view of the surroundings.
2. Gerðuberg
Gerðuberg is a massive sheer cliff wall of basalt columns. Easily spotted from the road, this natural phenomenon looks almost man-made. It's a lovely place with great views, perfect to stretch your legs after the drive from Reykjavík.
How to get there: It's just a little further up route 54 from Eldborg. You'll see it, but also there's a sign just in case.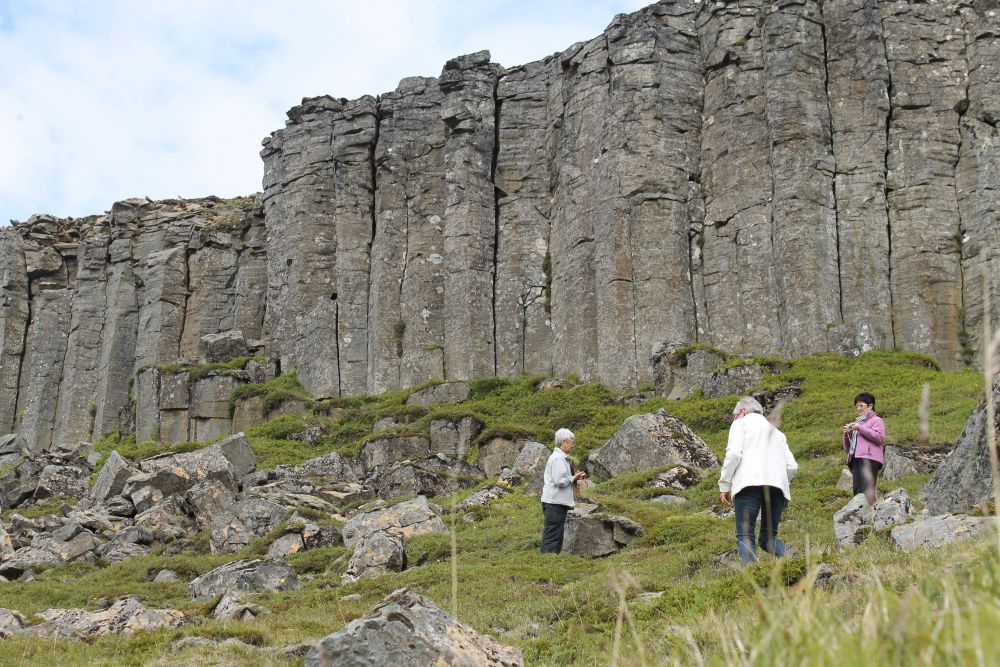 Photo Credit: Kim&Amy
The water in this charming old swimming pool is completely natural, straight from the ground.  No chemicals are added to the water and it's rich with minerals, so it attracts algae. It's really good for your skin, so don't worry about the green shade of the water. That's what it's supposed to look like!
How to get there: Drive another 30 minutes on route 54 after Gerðuberg.
4. Rauðfeldargjá (Red-Fur Canyon)
The name of this ravine is originally from an Icelandic saga, Bárðar saga Snæfellsás, that took place in this area. Bárður's nephews Rauðfeldur(Red-fur) and Sölvi had pushed Bárður's daughter out to sea on an iceberg. He thought his daughter was lost, but what he didn't know was that she had drifted all the way to Greenland, where she was safe.
Enraged, he shoved the furry Rauðfeldur into this ravine, and threw Sölvi off a cliff. Both places now carry the names of those boys.
Rauðfeldsgjá feels like the mountain has been cut in two and you're walking between the pieces. The ravine is very narrow and there's a stream that runs through it, with a lovely waterfall hidden deep inside the mountain.
How to get there: From Lýsuhólslaug, it's about 15-20 minutes along route 54, and a right-hand turn on Útnesvegur, (route 574). There is a road sign right before you get to Arnarstapi where you can turn off, park and walk to Rauðafeldsgjá.
5. Arnarstapi
Arnarstapi is a charming little fishing village located right below the Snæfellsjökull Glacier. By the harbour there are some amazing rock formations where various species of birds nest in the summer. From there it's a short walk to a massive sculpture of the half-troll Bárður Snæfellsás, by Ragnar Kjartansson.
You'll be walking through the nesting grounds of the Arctic Tern though, so beware! They are tiny, but fierce and will do anything to protect their young, like pecking you (hard!) in the head. So it wouldn't hurt to bring a stick and raise it above your heads, since the terns always attack the highest point. I never worry about it though, because I'm usually too busy admiring their strength, beauty and flying skills.
From Arnarstapi there's a nice and easy 2,5 km hike by the seaside to Hellnar, the next village. When you get there you can explore the cave Baðstofa (e. "living room") by the sea, and regain your strength at the cosy café Fjöruborðið.
How to get there: Continue west on route 574, there will be a left hand turn and a road sign pointing to Arnarstapi.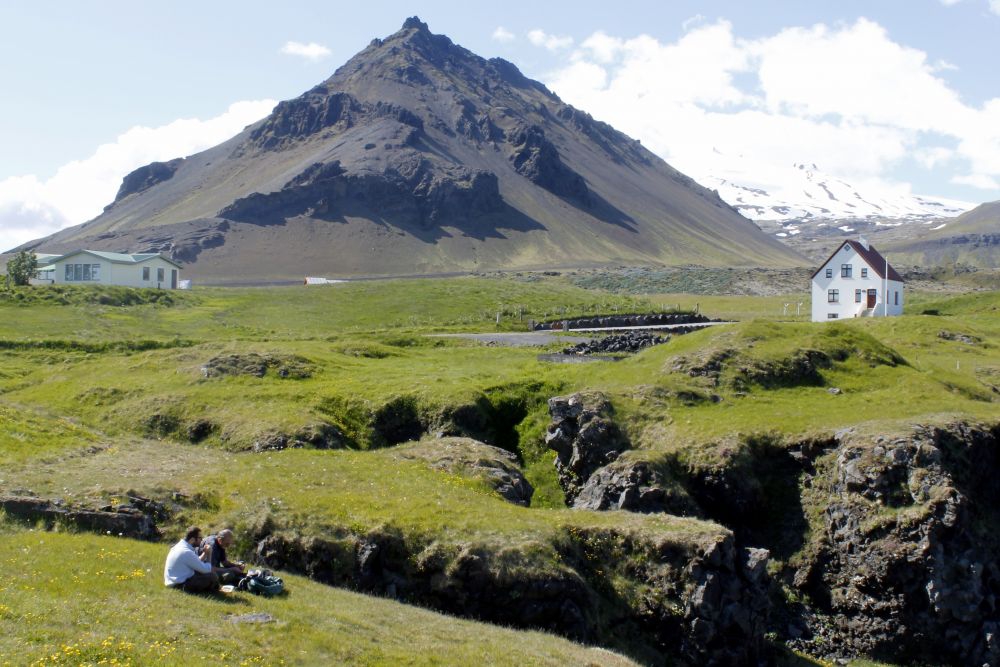 6. Vatnshellir
This is one of the coolest lava caves in Iceland. It's in the National Park of Snæfellsnes so for preservation purposes you need to go there with a guided tour (for information about this, just email these guys). The tours take about 45 minutes and go down 35 meters (115 ft.) into the ground. You get to see some amazing colours and formations in the lava rock.
The cave is about 200 meters (650 ft.) long, and when you get to the end, the guide will often turn off the lights and ask everyone to be quiet. When I did this tour, I think it was honestly the first time in my life that I experienced real, absolute darkness and silence. That's truly a unique opportunity when noise and light is such a big part of our everyday lives.
How to get there: Continue driving on route 574 for about 10 minutes after Arnarstapi, the cave is on the right of the road. Remember the cave is only available with a guided tour and you really want to book ahead.
7. Djúpalónssandur
So maybe you've seen the black-sand beaches of Vík… well this is a bit of a twist on that. Djúpalónssandur is a black beach, but instead of sand, it's full of little black pebbles that have been eroded by the sea to become beautifully round. They're called the Pearls of Djúpalón.
There's something really charming about this place, and it's also quite interesting historically. Fishermen used to come from all over the country for certain parts of the year to go fishing from this place.
There are still four lifting stones on the beach, which the fishermen used for strength competitions in the old days - the heaviest one is about 150 kilos (330lb.)!
Be careful not to go too close to the sea here though, the waves are very strong and accidents have happened!
How to get there: Drive 5 minutes further on route 574 until you get to a left-hand turn for Djúpalónssandur. It's about a five-minute drive further on a nice paved road.
8. Rif and the Freezer
Rif is a tiny little fishing village on the north side of the peninsula. It consists of about two streets and a population of about 130 people. What's unusual about it is The Freezer.
The Freezer is a hostel, theater and artist residency, complete with a bar and café. Its owner, the actor and Rif-local Kári, has built this cultural institution from scratch in what used to be a fish factory.
The Freezer has lots going on in the summertime, for instance they've put on a one-man show about the aforementioned giant Bárður Snæfellsás and a one-woman show about Guðríður Þorbjarnardóttir, a viking-lady who travelled around the world in the year 1000.
But there's something new all the time. There are concerts featuring local music legends and famous Icelandic bands. The other cool thing about Rif is its birdlife - it boasts of one of the biggest Arctic Tern nesting grounds in Iceland.
How to get there: Get back to route 574 and drive another half an hour headed north. You are now in Rif.
9. Kirkjufell
This picturesque mountain has gained some internet fame lately for being one of the most beautiful mountains in the world. I have to agree, it is pretty perfect, with its distinctive shape and ocean on three sides. The pictures speak for themselves.
Hiking to the top is only for experienced hikers, but you can walk around the mountain in approximately three hours.
How to get there: Drive another 10 minutes and you will see route 574 basically "turn into" route 54 again. Head north and east on route 54, and drive for about 20 minutes to get to Kirkjufell. It's a mountain. You won't miss it. It's pretty big.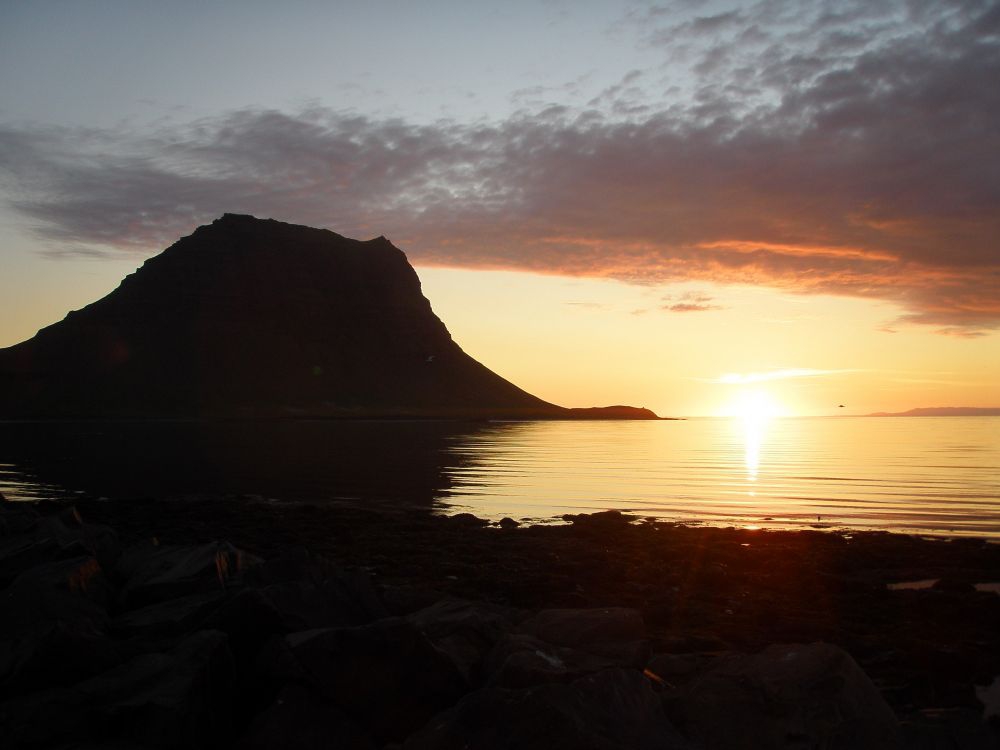 10. Stykkishólmur
This is easily one of Iceland's most charming villages, so no wonder Ben Stiller chose this place to film his movie, The Secret Life of Walter Mitty. Stykkishólmur is full of colourful old wooden houses that give it an aura of timelessness. The regional folk museum, called the Norwegian House, gives you a rare insight into everyday life in Iceland through the ages.
The harbour area is lovely - you can walk to the top of the hill Súgandisey and enjoy the view of the town or the enormous Breiðafjörður bay with its countless islands. From there you can also go on a cruise of the bay, exploring the birdlife and tasting freshly caught scallops, or take the ferry to the the only inhabited island in the bay, Flatey. It's a paradise. When you get back to Stykkishólmur, check out the Narfeyrarstofa restaurant. It has a great selection of local dishes.  
How to get there: Continue driving on road 54 from Kirkjufell. Take a left on route 58, there will be a sign for Stykkishólmur. The drive takes about 30-40 minutes.
Now as I said, all this might be hard to squeeze into one day. If you have some extra time, there are plenty of good accommodation options in Snæfellsnes so you can easily spend two days exploring it. Hope you have a great time there!
If you're looking for other self-drive day trips from Reykjavík, check out our self-drive of the Golden Circle, or of the South Coast! If you need a rental car, here are some of our recommendations and if you decided you don't feel like driving after all, you can just go on this super convenient bus tour!