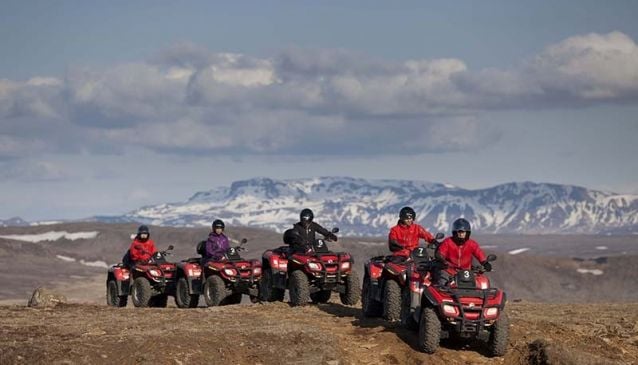 Top 10 Extreme Things to do in Iceland
Reykjavik
Iceland is a land of extremes - so it's a good place to do a lot of extreme things!
Iceland is a land of extremes: Freezing glaciers and burning volcanoes, the thundering ocean and the barren tundra of the highlands, the midnight sun and the dark winter days. And fittingly, this extreme land is the perfect place to do a lot of extreme things! Such as....
1. Mountain Biking
Well over half the surface area of Iceland is mountains, glaciers and volcanoes , so this country is well suited to mountain biking. The entire highland area in the middle of the country is mostly barren black-sand deserts and moss-covered lava fields, interspersed with hills and mountains. The vistas in Iceland are beyond compare, they have served as movie backdrops for magical lands (amongst others in Thor: the Dark World and in Stardust) and outer space (in Prometheus and Oblivion, to name a couple) and the Icelandic heath was even used as a practice ground for the Apollo 11 moon landing team.
This all makes for one amazing mountain biking tour, as you can see in these videos from Icelandic Mountain Guides. The soundtrack of the first video is Icelandic artist Barði, former member of the duo Bang Gang, and the latter is accompanied by Icelandic Reggae band Hjálmar. To read more about Icelandic music check out this article.
These amazing mountain biking tours are operated by Icelandic Mountain Guides.
2. Quad biking
A quad bike or an All-Terrain Vehicle (ATV) is one of the best ways to see nature up close while travelling at breakneck speed accross all possible terrains – they can go where most vehicle can't, offroad, through rivers, you name it, while still being relatively comfortable to ride. Imagine driving your ATV on a volcano, through a river or up a glacier! Check out this video of an ATV tour in the vicinity of Reykjavik:
You can book your quad biking adventure with Mountaineers of Iceland.
3. Diving/snorkeling
Quick, name one extreme thing you think of when I say Iceland!!! Did you say diving? Probably not. But you can dive and snorkel here and it's incredible, for instance check out this video from Silfra – where glacial water filters through volcanic rock until it's so clear that the visibility is much greater below than above the water!
4. Snowmobiling
Iceland is home to the largest icecap (that's glacier to you and me) in Europe, Vatnajökull, as well as several other huge glaciers. What this translates to is that you and your friends can ride in a jeep to the top of a glacier and then drive yourself around the endless white powdery mass for the adventure experience of a lifetime. Need I say more?
You can book a snowmobile tour, amongst other places, through Mountaineers of Iceland or What's On in Iceland.
5. River Rafting
Iceland is mountainous literally all over, so there are plenty of places to go river rafting on the various mountain rivers. This is an incredibly exciting activity for a group where everyone must row in unison, and part of the fun is to fall in with your wetsuit and get a little wet and cold (but not as cold as you might think..). Check out this video from Arctic Adventures:
6. Kayaking
Have you ever been Kayaking? It's really nice, it feels like you're sitting just on the surface of the water – you can literally reach out and touch it. It's a good workout, especially since you inevitably end up racing your friend to some arbitrary spot, and it's a wonderful, serene way to enjoy the scenery of this beautiful island. You can either go ocean Kayaking or, for the more experienced/crazy, you can kayak on mountain rivers and down waterfalls. Check out this video from Borea Adventures.
7. Sky Diving/Paragliding
Do you know what paragliding is? It's amazing, probably the freest form of flying known to man. You just strap on a special parachute-like glider and you take off running. Soon you're flying in the air with nothing between you and the great blue sky but your winter boots. It's the perfect mix of adrenaline and serenely natural. Check it out!
You can book the paragliding experience of your lifetime with Paragliding Iceland.
And of course you can try the most extreme of extreme sports, skydiving, in the most extreme of countries, Iceland. Just check out these guys who leap cool-as-a-cucumber from a helicopter over Reykjavik, landing in the domestic airport.
Sky diving tours are offered, amongst others, by Skydive Iceland.
8. Explore the INSIDE of a VOLCANO!
Can you imagine anything more extreme? Well, ok, it's not an active volcano, if it was, that would be more extreme. But then, you'd be dead. So there's that...
The volcano exploration tour is operated by Inside the Volcano.
9. Surfing
Did you know you can surf in Iceland? Cause you totally can! Just throw on the thickest wetsuit you can find and come hit the beach! I mean it makes sense kind of, since we're in the middle of the North Atlantic, with about 5.000 km(3.000 miles) of shorelines riddled with fjords and peninsulas, I guess it's only natural we get some gnarly waves... check competitive surfer Laura Enever's Iceland adventure. SURF'S UP!
You can book surfing tours with Arctic Adventures
10. Motor sport
Formula Off-Road is where crazy people create monstrous mechanical abominations and call them cars, and then take turns driving them in terrain cars are not meant to go on and see who flips over most. You can actually take a tour where you ride as a passenger in one of these cars in some of the most extreme terrain known to man! We couldn't find a good video of any terrified tourists so just watch this video of Icelandic Formula Off-Road and imagine sitting in the passenger seat:
If you've got a thirst for this kind of adrenaline rush, just email whatson@whatson.is and they'll hook you up.
Written by:
Sigurthor Marteinn
PUBLISHED: Sep 26th 2017