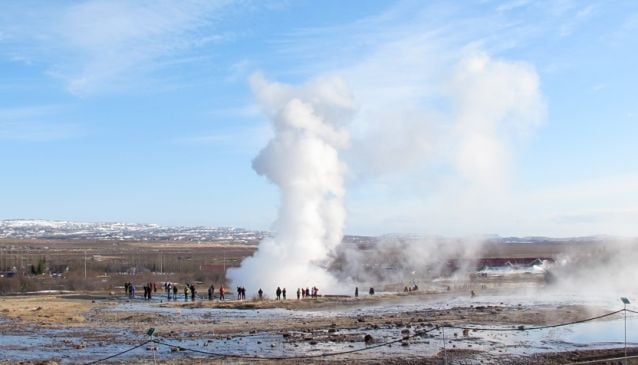 10 Most Popular Sights and Activities in Iceland
Reykjavik
Iceland is internationally best known for three things: Björk, Sigur Rós and its natural beauty...
Iceland is internationally perhaps best known for three things; Björk, Sigur Rós and its natural beauty. The nature is full of extremes. You'll see lush farmland next to a black sand desert or a moss-covered lava field, boiling hot springs next to an icy glacier.
There are a few natural phenomena in Iceland that just about everyone wants to see, and rightfully so! If you're planning your first trip to Iceland, the list below is a good place to start.
1. The Golden Circle (South Iceland)
There are three main sights on this grand tour of Icelandic nature:
There's the massive "Golden" waterfall Gullfoss, which flows with a sublime force into the canyon below.

Five minutes from there you'll find the geothermal hot springs of the Geysir area, where Strokkur triggers shouts and amazement of tourists every 5-8 minutes with eruptions of hot water.

Last but not least there's the national park of Þingvellir, where the Icelandic parliament was founded by vikings in 930. There you can get to know the history of Iceland as well as the geology of the tectonic plate boundaries.
If you don't feel like renting a car and driving yourself, you have many different kinds of tours of the Golden Circle to choose from.
2. The Blue Lagoon (South-West Iceland)
A unique pool and spa in the middle of a lava field. The intense blue colour of the water is caused by high levels of silica, which have proved to be very good for your skin (plus it's fun to rub white mud on your face).
Swim around in the lagoon, have a massage, grab a drink at the in-lagoon bar or lunch at their high-class restaurant. It tends to get pretty busy and booked up, so for the best chances of getting there, book a few days in advance.
How to get there: It's easy to drive yourself, but there's also a super-handy bus transfer. You can even go en-route to/from the Keflavík airport.
3. Vík and the South Coast
Vík is a village surrounded by black beaches and glaciers. Be sure to visit the nearby cliffs of Dyrhólaey for great views and rich birdlife. In the summer, thousands of puffins nest there. They are adorable, clumsy and hilarious.
Just be aware that the black beaches can be dangerous - the sea is unpredictable and it has happened that the waves catch people off guard. So please don't go too close to them!
How to get there: You can, again, drive yourself, or take a tour. See our other articles for more information and driving instructions.
4. The Glaciers
Go extreme and take a glacier hike, go ice climbing or just admire their beauty from a distance.
You can even go snowmobiling and if it's winter you can check out the ice caves of Vatnajökull, Europe's largest glacier. The glaciers are as dangerous as they are beautiful so you need a guide with you. Believe me when I say this dramatic, icy landscape will blow your mind.
5. Lake Mývatn (North Iceland)
Mývatn is surrounded by various geological phenomena and geothermal areas, as well as being home to a huge variety of waterbirds. Check out the dramatic lava pillars of Dimmuborgir and the Geothermal Nature Baths. The lake and the surrounding area is completely unique and a true pearl of Icelandic nature.
To get there from the capital you can fly, drive or take a bus, but I definitely recommend staying overnight.
6. Skaftafell Nature Reserve (East Iceland)
Located right below Europe's largest glacier, Vatnajökull, National Park Skaftafell is full of hiking possibilities that lead you to breathtaking places such as Svartifoss waterfall, Morsárdalur valley or a hike up onto the glacier itself.
The hike up to Svartifoss waterfall is quite easy and only takes about 1,5 - 2 hours both ways, so it's a great way to add some fresh air, exercise and breathtaking natural beauty into your itinerary.
How to get there: You could fly, drive or take a bus, but for this distance you probably want to stay there overnight.
7. Snæfellsnes Peninsula (West Iceland)
Snæfellsnes is full of surprises; caves, lava fields, hot springs, beaches and rock formations, all watched over by Snæfellsjökull glacier, the 'entrance to the Center of the Earth' and destination of aliens.
It's one of the most geologically diverse areas in Iceland. Exploring the peninsula makes a great day tour from Reykjavík but you might prefer to get accommodation there to spend more time in Snæfellsnes.
Check out the amazing rock formations at Arnarstapi, the black pebble beach of Djúpalónssandur and the charming village Stykkishólmur. If you're lucky you can catch a play at Rif's theater/hostel, the Freezer.
To get there, you can drive (see our detailed driving guide) or take a day tour from Reykjavík.
8. Jökulsárlón - The Glacier Lagoon (East Iceland)
The glacier lagoon never ceases to amaze me. It's slowly but constantly changing as the icebergs float around towards the sea. Whether they are icy blue, snow white or a muddy gray, they are always eerie and magnificent. Sailing among the icebergs you're likely to see some seals, arctic terns and skuas.
I feel like it shouldn't be necessary to say this, but PLEASE DON'T CLIMB ONTO THE ICEBERGS. It's extremely dangerous.
To get to the east, you can easily drive, fly or take a bus from Reykjavík, but you may want to stay overnight.
9. Dettifoss
The most powerful waterfall in Europe, Dettifoss, will surely give you chills, as it tumbles 45 meters into the gorge Jökulsárgljúfur below. It's a part of what they call the Diamond Circle - where you can also see the horseshoe-shaped cliffs of Ásbyrgi, an amazing and tranquil place, and the lovely seaside village of Húsavík, where you can go whale watching or check out the Museum of Exploration.
10. The Northern Lights
Growing up in Iceland, the northern lights are quite the everyday occurrence to me. However they still take my breath away and make me stand outside in the freezing cold at night to catch a glimpse of them.
Many travelers come to Iceland specifically for the glow of the northern lights on the long winter nights of the arctic. If you're very lucky they'll dance around for you for hours, even with shades of pink and purple. Don't be disappointed though it they look more like green streams across the sky. That's still pretty incredible if you ask me.
Written by:
Sigurthor Marteinn
PUBLISHED: Mar 31st 2020