A Day in Reykjavik for 10 Euros or Less
Reykjavik
It's your last day in Reykjavik and you want to experience the local culture. This is what you do...
It's your last day in Reykjavik and you've just woken up in your hotel. You've had an excellent trip so far and you're kind of hung over after the excellent time you had last night at the bars downtown. You go down to the cafeteria and have some breakfast.
Now how should you spend your last day? You've already spent most your cash on tours and exploring and you just want to have a nice and easy last day where you can experience some of the local culture before you leave. This is what you do.
The Ultimate Hangover Cure
About a 25 minute walk from the city center is the geothermal beach in Nauthólsvík. You pack your speedos and you're on your way towards Perlan ("The Pearl"), the big glass dome that looms over Reykjavík. You're going for a swim in the ocean.
"Ocean swimming" in Iceland is something that has grown in popularity in the past few years. Some people do it all year round, regardless of the weather. Now don't get me wrong, no matter what the temperature is outside the water is going to be freaking cold! But it's one of the most refreshing things you can do.
After a short swim you can warm up in the big hot tub outside the changing rooms. The facilities are free to use and you're ready for the rest of your day.
Money spent: €0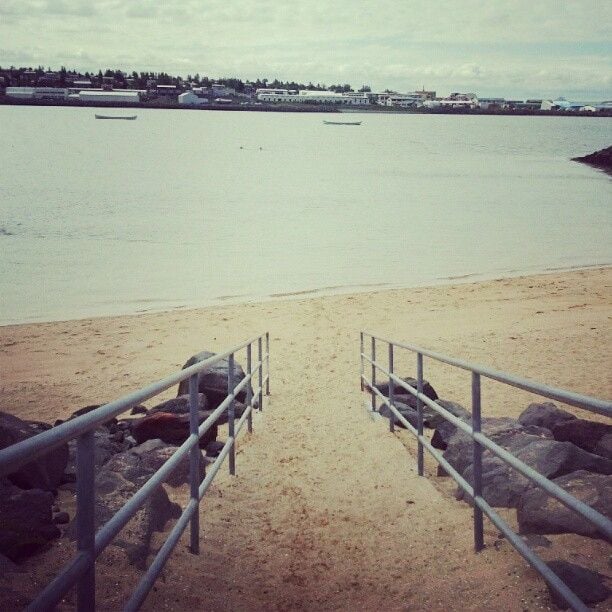 A 360° View of the City
After your refreshing swim in the ocean you take a casual stroll up to Perlan. This is a dome built on 6 hot water silos where you can find a fancy revolving restaurant, a exhibition on the Icelandic Sagas, some great ice cream and soon Iceland's museum of natural history. Go up to the 4th floor and enter the balcony. You will be able to walk the whole circle, have a nice view of the domestic airport and if the visibility is good you can see all the way to Snæfellsjökull glacier, the entrance to the center of the Earth, according to Jules Verne.
I recommend a scoop of ice cream to go with the view. A scoop costs around €2.5 so you still have plenty for your day. And don't mind the weather either; Icelanders eat ice cream all year round and so will you once you get the taste of it.
Money spent: 2.5€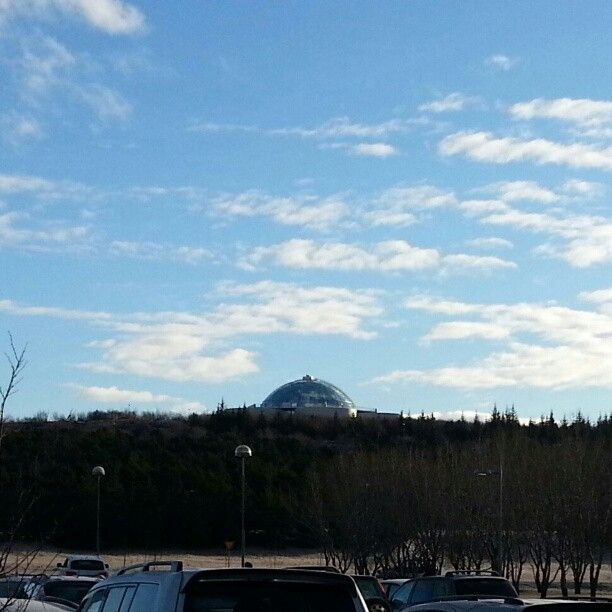 A Fortress in the Old Town
After the spectacular view and a scoop of ice cream you head back to town. You walk the same way you came but turn to walk up the hill of Skólavörðuholt. There you will find one of Iceland's most famous churches: Hallgrímskirkja. For now it's not the church that we're interested in, but a gray building that looks like a fortress, right next to the church. This is the museum of the sculptor Einar Jónsson. There you can enjoy some of his best work and the admission price is a steal, only 600 ISK which comes to about 3€! In the back of the house there is a beautiful yard where replicas of some of Einar's statues can be admired in a different environment.
Money spent: €5.5
"I'll Have a Clinton, Please"
Oh boy, you must be getting hungry about now. What better way to sooth some of that hunger than enjoying the same meal President Bill Clinton did while he visited Reykjavík. Walk from the museum down the beautiful street Skólavörðustígur and all the way down town. There you will find Iceland's most popular restaurant for the past 70 years: The hotdog stand Bæjarins Beztu. You'll probably have to wait in line for a little bit but it's worth the wait. While Clinton did have a hotdog with only mustard, the traditional local way is to have "eina með öllu". That literally translates to "one with everything" (mustard, ketchup, remoulade, raw onions and fried onions). But to each his own.
Money spent: €7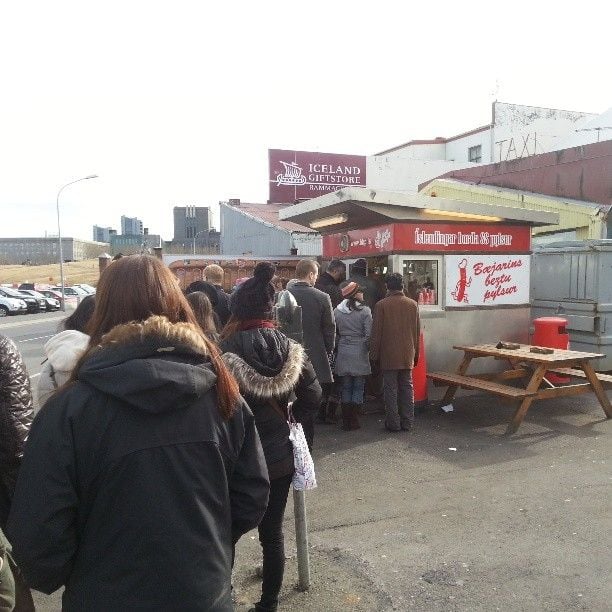 The Best Way to Finish the Day?
I bet you've had an eventful day so far, but what do you have left to do? Why I think it's time for happy hour! Many bars in Reykjavik have happy hour or hours. But the best place to visit for a cold beer is Micro Bar. It's a fantastic little place in Austurstræti which only serves beer from micro-breweries. On tap you can taste beers like Kaldi, Skjálfti and Gæðingur. It's definitely a bar you don't want to miss!
Money spent: €10
You've spent a whole day in Reykjavík and what a day it's been! You've been swimming in the ocean, taken in the view, explored the culture and history and you've tasted some of the local food and drinks. You've explored the city and experienced all the unique little things that are different every day. Now you go back to your hotel and pack your bag. You're ready to leave Iceland, but you also can't wait to come back!
Hjalti Rögnvaldsson is a guest writer for My Guide Reykjavik. 
He's enthusiastic about everything he does, with a passion for marketing, travelling and sports just to name a few.
He blogs in Icelandic, here - and we highly recommend his blog, in case you understand Icelandic. If not - his blog might be a great starting point.