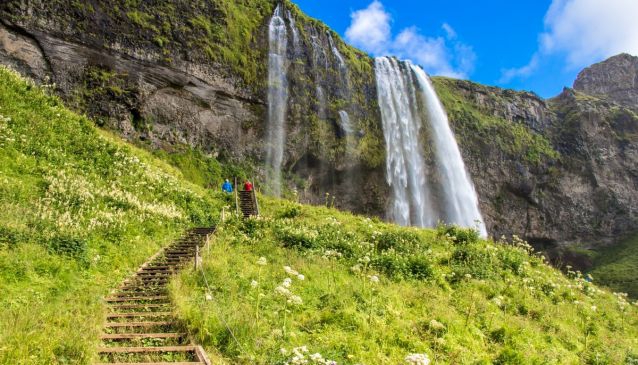 Where to Go, What to Do and How to Get There?
Reykjavik
The biggest problem with travelling in Iceland is that there are TOO MANY awesome things to do...
So you're planning a trip to Iceland. What now? As you frantically scroll through websites (like this one, and perhaps other, inferior, websites as well) looking for information on the country, I'm sure you're starting to realise that the biggest problem with travelling to Iceland is that there are TOO MANY awesome things to do. It's enough to give you choice anxiety, should I bus around the magnificent sceneries, helicopter to a volcano, hang out in the museums or snorkel in a tectonic fissure? What's the difference between the Golden Circle and the South Coast? Is one better than the other? Well put your mind to rest - here's the quick-and-dirty overview over what there is and how to choose between the options.
You're incredibly likely to start your tour out in Reykjavík, so let's talk about what there is to do there. Then, there are roughly two types of experiences: sightseeing tours on the one hand, and activities on the other. In addition to this, basically every tour has several ways of getting around, for instance you can ride the bus, take a super jeep tour, fly in a helicopter or hire a car. So let's just break it down one by one.
Day One: Reykjavík
Reykjavík is the biggest little city in Iceland, as the capital city area is home to about two-thirds of the country's 300.000ish inhabitants. It's an incredibly cultural city with a plethora of world-class restaurants, impressive museums and culture, and some excellent shopping. The city has a vivid creative life as evidenced by the multitude of concerts and events. The best way to stay on top of these is to browse this website, for up-to-date information about events, or wander into one of Reykjavík's many fine information offices and ask them what's on any given day.
Reykjavík is a small city and the centre is easy to get around on foot, but it also offers reliable taxis or city busses and most tours and activities pick you up from your hotel or guesthouse.
Where to Go? - Sightseeing Tours
The Golden Circle is without a doubt the best known and best publicised day tour in the country. What is it? A 300 km loop that usually opens and closes in Reykjavik. It covers three main locations: Þingvellir National Park, the Waterfall Gullfoss and the erupting Geyser Strokkur in Haukadalur. The question is: Why is it so popular?
The fact is that there is any number of amazing places to see on daytrips from Reykjavík, each with their own characteristics and amazing sights. Part of the reason the Golden Circle is a big deal, I suspect, is because a lot of people go there, which means it must be a big deal, which in turns leads to a lot of people going there, in a kind of self-feeding cycle. That being said, there's a reason why it got popular in the first place, since there are some pretty unique things to be seen there.
Þingvellir National Park is unique in two ways: it was the site of the Icelandic Viking Parliament from the year 930 to 1798, and it's one of the best places in the country to see the tectonic drift - huge fissures forming where the earth splits apart by about an inch a year. The Geysir Geothermal Area is unique in that it's home to basically the only erupting hot spring in Iceland, Strokkur. And Gullfoss, the Golden Waterfall, is definitely one of the larger and more beautiful falls in Iceland.
Whole day/Half day? The Golden Circle is basically a 6-hour excursion, but taking a whole-day tour usually adds something amazing for a relatively small increase in price. To get there you can take a super jeep tour, a bus tour or even rent a car and drive yourself, options which are explained in more detail below.
(For a more in-depth article about the Golden Circle: click here)
Other Sightseeing Tours from Reykjavík
There is a large number of destinations to day-trip from Reykjavik, each with their own unique characteristics.
The South Coast is particularly good for waterfalls and black-sand beaches. If you travel the south coast, you take route 1 south, nestled between a magnificent mountain range on one hand and the deep blue sea on the other - it's a very scenic drive. You will see waterfalls Seljalandsfoss (our famous "walk-behind" wonderfall), and the huge Skógafoss, which served as a backdrop for Thor 2. It also offers the beach by Vík, with cool rock formations and basalt columns, as well as Eyjafjallajökull, the volcano/glacier which grounded most air travel in Europe in 2010.
Reykjanes is the peninsula on which the international airport in Keflavik resides, so if you've ridden the bus to Reykjavik, you've already got a taste of it. This area is one of the most geologically active places in Iceland, as well as some of the flattest land. It has a number of geothermal areas and fumaroles, relatively fresh lava fields, rich history, quaint little folklore and, of course, the Blue Lagoon.
The Snæfellsnes Peninsula is directly north of Reykjavik and on a clear day you can see some of its mountains and even clear to Snæfellsjökull glacier. What's distinct about this area is first of all its overall feel; the large and very defined mountains everywhere - other places might have a large mess of more or less continuous mountains, but Snæfellsnes has a number of very distinct mountains with very unique shapes. It's a narrow strip of land and all the mountains are in the middle, so you're pretty much always driving with mountains on one hand and the sea on the other. This makes for some mind-blowingly magnificent landscapes, which is maybe why so much of Secret Life of Walter Mitty was filmed in this area.
Snæfellsnes has a number of quiet little towns which fill up with fishermen in the summer, the largest of which is Stykkishólmur, a beautiful, picturesque little town with many historic wooden houses. Finally the coastline is smattered with rock formations and interesting natural phenomena.
Further afield
More ambitious day trips include going all the way to Skaftafell and Jökulsárlón Glacial Lagoon in the East, or even to the North, to see places like Akureyri and Mývatn. These are longer distances that either require flying, long bus rides or lots of driving, and we generally encourage people to take a bit longer and stay there for a night or two. That being said, all of these examples and many more are absolutely amazing tours, but we won't cover them in detail here since we feel they fall into a slightly different category.
There are, of course, countless other places you could day trip from Reykjavik, but these encompass the major directions and areas you might choose to go.
What To Do? - Activities Around Reykjavík
Now we've covered the major places to go sightseeing - but what if you don't just want to enjoy the scenery? What if you want to do something interesting and exciting while you're there? Well, luckily there is no shortage of things to do in and around Reykjavík. The activities often combine easily with sightseeing, for instance the south coast is a great place for a glacier hike, so we'll list the best places to go for a given activity and provide you with some helpful links. There are too many to make a completely comprehensive list, so we recommend talking to a tourist information agent or perusing our website with all its different operators, hints and tips. Some of the more exciting things include:
Snowmobiling on a Glacier: This you can do both near the Golden Circle, and possibly on the South Coast or in the Snæfellsnes peninsula.
Hiking on a Glacier: This is easiest to do on the South Coast.
Snorkelling/Diving: Most people do this at Þingvellir National Park though you can go any number of places.
Caving: Anywhere, but western Iceland is good.
Horseback Riding: Anywhere, for instance in the Lava Fields of Reykjanes.
Hot Spring Bathing: Everywhere: there are natural hot springs as well as excellent public pools - the Blue Lagoon is recommended.
Whale Watching: This is great and simplest to just do from the Reykjavík Old Harbour.
Northern Lights Hunting: Outside the city, wherever the lights are and the sky is clear.
How to Get There? - Travelling Around in Comfort and Style
So now you know where to go and what to do, but how do you get there? In general, for day trips, you have the choice of a Helicopter, a Superjeep excursion, a bus tour or renting a car. For most places, you will have most or all of these options, depending on the season and the particular conditions.
Helicopters are of course awesome to even be around, so if your budget has room for that, it's an amazing way to get around and see the scenery. Most companies also have shorter, more cost-effective trips for those who just want to get a feel for it and add some excitement to their life.
Superjeeping is generally the more luxurious of the ground-based options, and they generally take you places where normal vehicles can't (or shouldn't) go.
The bus is a classic way to get around and as opposed to self-drive you don't have to worry about finding the way, while the tour guide tells you everything you want to know.
Car Hire is often the most cost-effective for two or more people and offers more freedom, but of course then you don't have the service of a driver or a guide.
Written by:
Sigurthor Marteinn
PUBLISHED: Sep 26th 2017